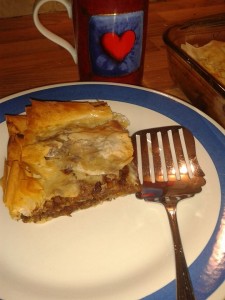 Pumpkin Pie with Pecans -Vegan , Dairy free
2013-12-05 01:22:18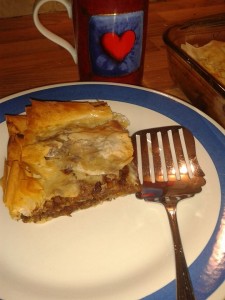 Serves 8
Delicious way to enjoy a sweet pumpkin pie
Ingredients
1 cup of grated pumpkin
1/2 cup of chopped pecans (you can use walnuts , as the original is with walnuts )
1/2 sugar (I use raw unrefined)
250 gr.filo pastry (I use ready rolled )
1 tablespoon of cinnamon
1 teaspoon of ginger
1/2 teaspoon of nutmeg
1/2 teaspoon of cloves
Some walnut oil
A splash of oat milk (too moist the pastry , but if you don't have any, water will do just fine.
Instructions
1.First grate the pumpkin.(food processor makes it too mushy)
2.Your next step is simply to mix all the spices with the pumpkin, sugar and pecans
3. Put layers of filo pastry and the mix with an ocational walnut oil and some splashes of oat milk or water to keep the pie nice and moist
4.Once you have used up all your mix and pastry simply sprinkle some walnut oil and a add a splash of oat milk or water
5.Preheat the oven to 170 degrees in a fan oven and 200 ordinary
6.Place your pumpkin pie in the middle and let it cook for about 15 minutes or so
7.Let it rest for 10 minutes after cooking
8.Serve and enjoy
Notes
It's a tasty and delicious treat and it's perfect with some nice tea of your choice. The smell of the pie is really comforting -cinnamon always gives that reassurance of homely and cozy room. Enjoy!
Adapted from Bulgarian Cuisine
Adapted from Bulgarian Cuisine
Mother Nature Loves You.Com http://mothernaturelovesyou.com/
(Visited 294 times, 1 visits today)