The Back Pain Show 2014 great 'free ticket' bonanza
For anyone in the UK living with back pain and the many related conditions, the annual Back Pain Show held at London's Olympia venue is one of the most important dates in our health and wellness diary (writes John Hicks, presenter of the hugely popular 'The Health Kicks Show' aired on UK Health Radio, Europe Health Radio and local radio stations worldwide).
And it is not too late to claim your free tickets, courtesy of UK Health Radio.
There will be so much for you to see, hear, try and buy at this wonderful event on their new dates this year: 4th, 5th and 6th July 2014:
More pain relief answers
More products to try and buy
More advice from leading experts
More dedicated seminars on back pain
MORE solutions, MORE comfort – all for FREE!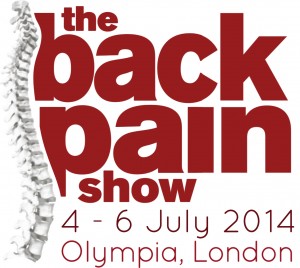 For example, you will find: 
• Shopping – test out and take home the best and most innovative back pain solutions and treatments
• Learning Theatre – free-to-attend seminars from the UK's leading experts in back pain management and conditions
• Yoga Zone – where you can join in free yoga classes, on the hour, every hour
• Therapy & Exercise Zone Interactive, informative and entertaining live demonstrations and classes
• Relaxation Zone – An oasis of calm in a busy world, for all visitors to enjoy a massage and recharge themselves
• The Allergy & Free From Show 2014 – with the Back Pain Show co-locating with one of the UK's biggest health and wellness events there is so much to see, try and buy!
As I said in my introduction, UK Health Radio has unlimited free tickets for you, your family, friends and colleagues. You simply register for free and download them at: http://www.backpainshow.co.uk/go/ukhealthradio or follow the link from the banner on UK Health Radio.com
I hope to see you there!
John Hicks is the presenter of UK Health Radio's weekly health and wellness talk radio show, "The Health Kicks Show with John Hicks". You can read his blog at www.health-kicks.co.uk and follow him on Twitter @healthkicksshow
(Visited 114 times, 1 visits today)