As you know for me being vegan is a continuous journey. You can decide in a heartbeat to go vegan, but manifesting this in your life is a wonderful ride.
This week I was sent a yummy box with vegan snacks from Vegan Cuts to review and I loved every bite and sip from it.Vegan cuts are a team of wonderful vegans, who now  knows that plant-based eating is the best, most fulfilling diet choice, but they see a commitment to eating vegan as just a start so they spend their days scouring the interviews, festivals, and stores for the very best vegan clothing, shoes, accessories, body care products and everyday items.
 For more information in Vegan Cuts Snack Box you can visit their website.
The eldest boy wasn't feeling to be in front of the camera, but was very happy to eat the bar of chocolate. 
Little coffee moment for me .
To be vegan in a non-vegan world is a ride. It's a journey, that has helped me to be true to myself and share the experience with others. I want to thank you for your love and support and I appreciate each and every one of you.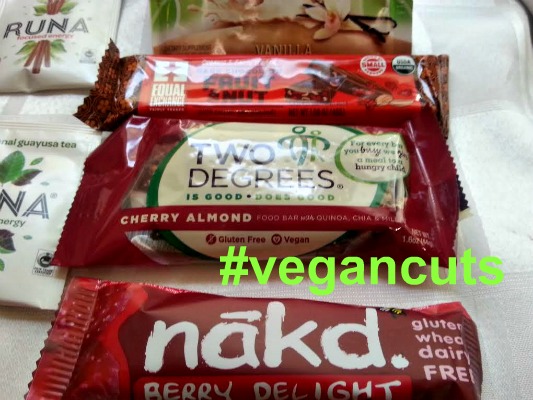 I get to feel low and upset when I am a supermarket and have to pass the meat isle to get my falafel mix and they have moved the Oat milk with the long life cow's milk.
I get to be preachy sometimes. I feel like the vegan preacher and I find expressing my thoughts and feeling via blogging and social media one of the best way to share them.
I feel so despredly sad for all the animals, that are hurt, abused and used, not because people mean bad, but simply because this what they know to do.
I get to feel angry and guilty for teaching my kids to eat everything, that we call food in our non-vegan world. I love it when they make vegan choices and they become more and more as the days go by.
I get to feel excited when I create a new recipe and as well as tasting amazing it also looks good.
Being vegan is about celebrating your compassion , nurturing your body and connecting with Nature. You connect with Nature every time you are in contact with people, food, living beings and all the energy around you. Enjoy and have more vegan snacks!  Have a look what Vegan cuts have here! 
Share the Love!Please use the share buttons below ! 
Sending blessings and love! 
(Visited 44 times, 1 visits today)