I love reading labels.When I am at work and a collegue offer me a sweet or anything similar the first thing, that I would do would be to ask them if I can look at the packet. After a quick scan I would either gladly take some or kindly refuse any.It is amazing the stuff, that are added sometimes to a simple looking sweets or crisps, that look quite innocent on the front.
It's like anything.You have to enjoy reading the small print and pay attention to the details.
It is true-one simple ingredient makes all the difference.
So I am always more than delighted to look and enjoy foods, that I know have been checked and tested .If you live in the UK, you might have come across http://www.thevegankind.com
One of my favourite sayings is, that "you don't have to be vegan to enjoy vegan stuff".Here is a picture on what I got in the April box from theVeganKInd.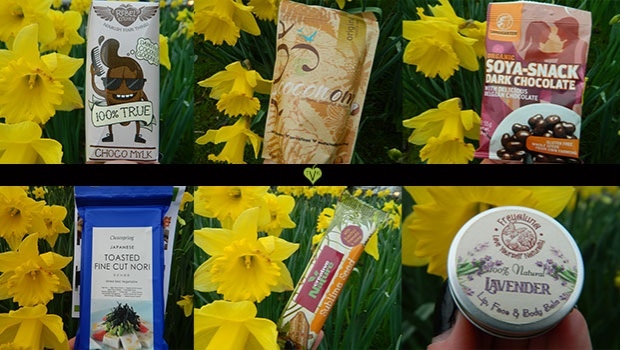 TheVeganKind is the UK's first monthly subscription service for vegans. Each month, for just £10 plus £2.95 p&p, you can get 5–8 vegan products straight to your door, with a diverse mix of full size and sample size goods, ranging from yummy food & drink, to cruelty free beauty (male & female), eco friendly household products and more!
Please click play to view my thoughts on April's vegan box.

http://www.thevegankind.com/ I am really happy with all the products.I made some amazing carrot cake with the coconut sugar.It made a perfect toffee topping for it.Here is the recipe for it.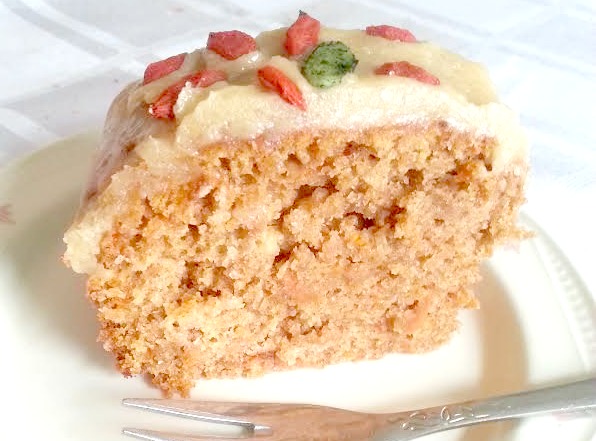 Vegan carrot Cake with Toffee Topping
2014-04-28 04:18:24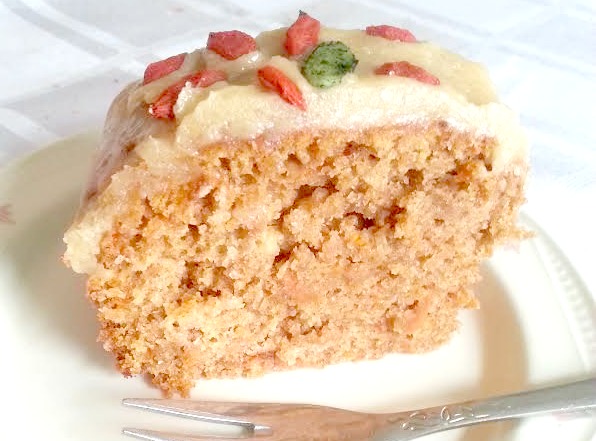 Serves 16
Moreish, rich and incredibly tasty carrot cake , that is It is wonderful any time of the year.
Ingredients
2 large carrots grated
1 cup of coconut sugar
juice from 1 lemon
3 ts of cinnamon
2 cups of flour
3 ts of hazelnut oil
1 cup of hemp milk
pinch of salt
1 teaspoon of baking soda (5 grams approximately)
For the glaze
200 gr of coconut cream
1/2 cup coconut sugar
vanilla extract
a dash of maple syrup
a dash of Amaretto (optional)
For the toppings
1/2 cup of goji berries
some chopped almonds
a pinch of Spirulina or Chlorella
Instructions
Grate the carrots and add the lemon juice, the cinnamon , the sugar and mix well.Let them soak for about 20 minutes .
While they are resting in another bowl mix the 2 cups of flour , the baking soda and the pinch of salt.Mix well and set aside.
Then go back to your carrot mixture and add the oil , the milk and mix well.Then add it to the flour mixture and gently fold it until is all even and smooth.
Its a very thick sloppy texture , but not as wet as other cakes.
Your next step is to preheat the oven to about 180° C and place your pan in it. It takes about 30-40 minutes to cook.I know it's done by testing with a wooden cocktail stick or a skewer , making sure it comes out dry.
While your cake is in the oven you can make the glaze, which tastes amazing and it has a texture of fudge.Goes very nicely.
So here it is-simply blend the coconut cream-I used , the one with high fat content, that got from the Asia Supermarket.Its not as hard as coconut butter-its very smooth and rich.I used the Vitamix to mix it with the sugar and all the other ingredients.In the Vitamix I let it blend for about 4 minutes on a low speed , which allowed it to melt and cook a bit.Once its ready-place it in a bowl and leave it in the fridge to cool as it becomes a lot easy to work with.
When you cake is ready.Place it on the rack and let it cool, too.
To make the "green" almonds simply chop some almonds and then place them in a container, that you can put a lid on.I used a hummus one.Then sprinkle with Chlorella or spirulina and shake it, until the almonds are nicely covered with it.
In about 2 hours your cake should be ready for glazing.Simply spread your glaze and then decorate it with the goji berries and the "green" almonds. Enjoy!
Notes
The secret to this recipe is to bring the flavours and soak them into one another. Make sure you soak the grated carrots with the cinnamon, lemon juice and the sugar.Enjoy!
Mother Nature Loves You.Com http://mothernaturelovesyou.com/
If you are interested in trying the vegan kind you can visit their website for more information.
http://www.thevegankind.com/
Connect with theVganKind.Com on Facebook
Subscribe to their video channel on You Tube
(Visited 28 times, 1 visits today)