M
From water to oil, the natural resources that we depend on to support our daily routines are not as infinite as we believe. If measures aren't taken to live more consciously, these resources will run out. To begin making an impact on the environment, start with your very own household! Whether the change is big or small, learning how to be a sustainable homeowner can help maintain our Earth's resources for generations to come.
Energy Conservation
Reported by the Alliance to Save Energy, the average household spends about $2,100 on home energy each year. For all this energy consumed, greenhouse gas is emitted into the air.
Making conscious lifestyle changes can save you some serious change in addition to minimizing air pollution.
Switch to a tankless water heater. Tankless heaters require less energy and can save you up to 40 percent on your energy bill!
Insulate your pipes so your heater can provide hot water more easily, using less energy in the process.
Transition your light bulbs to energy efficient versions, like LED, to minimize energy use. Additionally, these bulbs have a longer lifespan than traditional bulbs, saving you money on energy and supplies.
Water Conservation
Per person, 88 gallons of water is used each day. With eco-friendly, water-saving upgrades in your home, you can save 30 percent more water. This has the potential to result in 5.4 billion gallons of water saved per day.
Make smart upgrades with your faucets. Installing touchless faucets is an easy way to conserve water while making your home look more sleek and modern. This upgrade can save as much as 50 percent on your household's water use.
Go low-flow. Switch over to a water-efficient shower head or low-flow toilets in order to have more control over water being used. 27 percent of household water is used in toilets- opting for an eco-friendly version will help you minimize this water waste.
Filter out the junk from your water and hire a local plumber to install a house-wide filtration system or point of contact filters. These will help to remove contaminants like chlorine and mineral buildup from your water supply, preventing skin irritation, allergy flare-ups, and aging.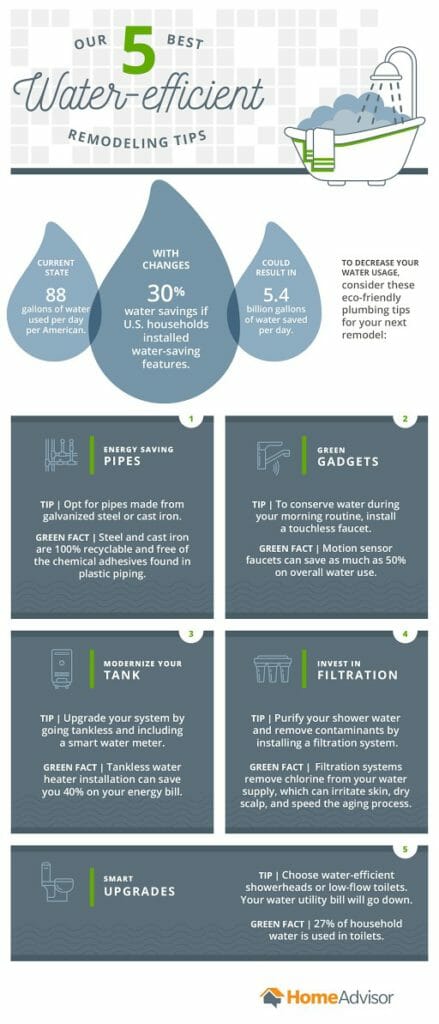 Reducing Waste
Throwing away what we see as "waste" is a natural behavior, done most times without much thought to what we're throwing away and where it goes once it leaves our home.  Plastic alone takes 400 years to break down, and National Geographic reports that only 12 percent of the 8.3 billion metric tons that have been produced have been destroyed. Being more conscious about minimizing waste proactively recycling can help reduce landfill waste.
Go plastic free. Switch from plastic to reusable glass with your food storage containers and water bottles. Rely on glass mason jars for storing items in bulk, such as sugar, flour, rice or beans. You can bring these jars right to the store to be filled up, eliminating the need for plastic packaging.
Use reusable, cloth bags when grocery shopping in order to minimize plastic used in the bagging process.
Donate gently worn clothing rather than tossing them out. Some materials, like leather, can take up to 50 years to fully breakdown in a landfill. Your home will look brighter and cleaner without the clutter!
Take Care of the Earth
Showing the environment how much you appreciate it doesn't have to be a hassle or require countless hours of dedication. Practicing sustainability as a homeowner will help you create a personal, environmental impact.
(Visited 140 times, 1 visits today)