One of the best items in my kitchen is the iron skillet. The pan gives to the vegetables instant umami (Japanese, literally 'deliciousness').It's one of my secrets in creating a wonderful tasting vegetable dishes.
---
Cookware Insider is among the most trusted resources for food enthusiasts and affluent home cooks looking to buy the best cookware, appliances and kitchen tools on the market. Cookware Insider provides credible information, unbiased reviews and engaging online communities to these consumers, so they can make an educated purchase decision.
---
A few weeks ago I was offered by Tesco to try some of their new farm range items. The 7 farms offer a variety of products at a very great value price. There is great choice including celery, beetroot, peppers, mushrooms and spinach. Of course, I got all of them.:-)
Chargrilled vegetables are amazing, done in some olive oil and lemon. If you are being super healthy you can cook them in lemon juice and garlic and add the olive oil just before serving. Either way, they taste fantastic. Using the iron skillet will boost your iron intake and I highly recommend you investing in one of those pans.
I am sharing one of the easiest recipes, that I love and cook almost weekly. It takes about 20 minutes to prepare and you get a rich nutritious meal, which is also very versatile and great to share and enjoy at a dinner party, too.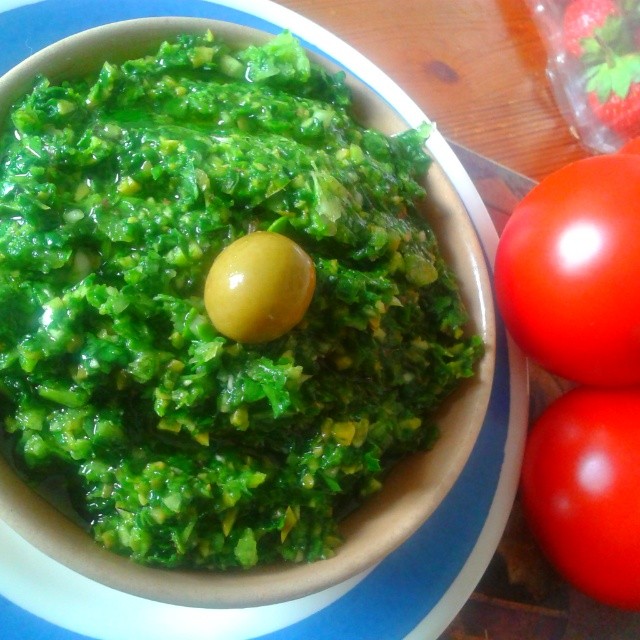 Here is what you need
12 pita bread
4 peppers-cut into thick strips
12 medium-size mushrooms, cut into thick strips
1 medium-size sweet onion cut into rings
1 courgette cut into rings
For the dressing/marinate
olive oil
juice of 3-4 lemons/or more if they are small
4 cloves of garlic crushed
pinch of oregano
pinch of salt and black pepper to taste
For the raw spinach pesto
a bag of spinach
big bunch of fresh basil
2 cloves of garlic
1-2 spoonfuls of lemon juice
olive oil
a handful of soaked cashew nuts or walnuts
Your first step is to chop all the vegetables and season them by mixing them all together in a large bowl. Once they are done heat your griddle and start cooking them by turning occasionally. You will see the nice iron lines showing pretty quickly. Once they are done drizzle a generous amount of lemon juice and some olive oil onto the pita bread and cook them on the griddle as well. They will taste amazing as all the flavours from the vegetables are still in the pan and by cooking your pita there afterwards you are making sure every bit of umami stays with you to enjoy. 
View this post on Instagram

This is one of my favourite dishes. Mediterranean vegetables done on the grill in olive oil and lemon juice inside pita bread, served with spinach, avocado garlic pesto. Lots of green olives on the side! Enjoy. #veganfood #vegansofig #whatdoveganseat #veganmama
You can replace the pita bread with flatbread, tortilla wrap or any other kind of bread you like. The vegetables are also very nice with rice and hummus or served with boiled baby potatoes. They also make amazing antipasti kept in a fridge in a nice dressing of olive oil, capers and oregano. You can also use them to make a pasta dish and serve them hot or cold.
To make the pesto simply add all the ingredients into a food processor and blitz until runny or until you like the consistency. Normally takes up to 2 minutes but each blender may vary.
To serve cut each pita in the middle and generously spread some pesto. Then stuff it with the vegetables. Add some fresh tomatoes pour some more pesto and enjoy.
This is a truly tasty combination and I hope you get a chance to try it. Feel free to adjust the amount of garlic or lemon you use.I like very strong pungent flavours but for the plain eaters out there a milder version of the dish might be better.
Thank you once again for stopping by,
Talk soon.
Eat well, sleep well and hug harder.
Ivelina
Related articles across the web
"If we don't get enough food donations, our guys are going to starve" Tesco give surplus food to charities across the county

Cara Mangini, the 'Vegetable Butcher,' Coming to Countryside Conservancy Events

How To Dice Almost Anything – Cooking Lessons from The Kitchn
(Visited 334 times, 1 visits today)