Hello my friends,
Today I want to give you a recipe which will give you an energy boost as well as keep you sustain for a good few hours. It really is an ideal lunch , that is packed with goodness and nutrients.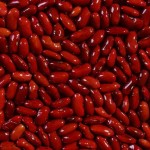 Red kidney beans are a source of fiber-rich  carbohydrates .They also contain  folate,  magnesium, iron, zinc and  copper.
This is a very easy vegan recipe and you can replace the kidney beans with chick peas or any other beans, that you like.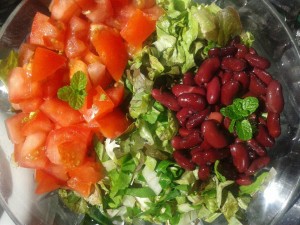 Here is what you need:
1 cup of cooked kidney beans (freshly cooked or from a tin )
1/2 lettuce
3 leaves of swiss chard
2 tomatoes
fresh mint
juice of 1/2 lemon
pinch of salt and pepper
some olive oil
First chop your lettuce, Swiss chard and tomatoes. Then add he cooked beans.I cook mine from scratch , but the ones from a tin will do fine as well.  In another bowl mix chopped fresh mint , olive oil and the lemon juice. Pour over and enjoy !
Overall this combination works very well together .
Thank you very much for being here and all your love and support,
lots of love
Ivelina
(Visited 148 times, 1 visits today)