Hello , my friends
this evening I want to share with you a very easy vegan recipe for a real comfort food -pizza. Everybody loves a bit of  comfort food. No matter what I believe we all do emotional eating , even when you eat a salad of green leafy vegetables . Food is our intimate relationship with nature, that we explore every time we sit a the table and eat . Herbs and spices play a big part here and sometimes textures. I love the taste of basil ,the flavour of salty tomato and the texture of freshly baked bread , just out of the oven.
The unity of basil , tomato and bread comes in its better version of vegan pizza.
Here is what you need to make it:
This recipe makes 12 pita pizzas:
12 pitas (plain or wholemeal )

12 mushrooms

1 red pepper

2 small  courgettes (zucchini)

3 carrots

for the tomato topping

tomato pasata 

basil

olive oil

2 medium onions

3 cloves of garlic

bay leaves

cloves

salt and pepper
 First make the tomato topping. Finely chop the onions and crush the garlic and season with salt and pepper . Then heat the oil and saute until the mix has a golden colour.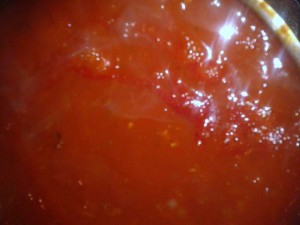 Add the tomato pasata and all the herbs and spices and let it cook on a low heat for about 10 -15 minutes.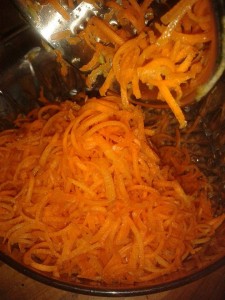 While the sauce is simmering you can prepare the vegetables . I use a brilliant vegetable slicer  from the salad master parties , that I held in the house . If you haven't got any vegetable slicer you can simply grate the carrots and the courgettes( zucchini) . Here is how the courgettes look like .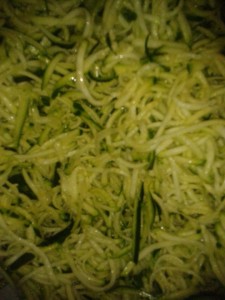 For a bit of extra richness I cooked the mushrooms as well , but if you want you can just chop them thinly and put them fresh in the oven. Also chop the pepper in thin sticks and that's you ready to assemble your vegan pizza .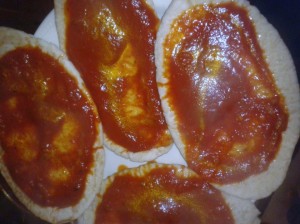 Then your next step is to put the carrots on top.You don't need to season them , but do season your courgettes with a bit of salt and pepper .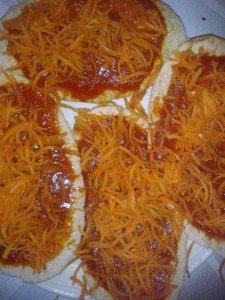 Then put the courgettes and the mushrooms and the peppers . Sprinkle with basil and put in the oven on a 180 C for about 5-7 minutes .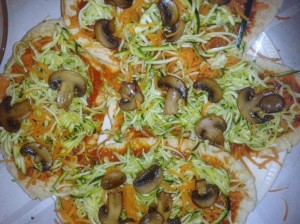 Once your pizza is ready sprinkle with some olive oil and serve. Enjoy!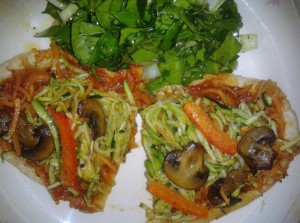 So there you have a very tasty and easy to make pizza. If you have any suggestions please write them in the comments box below, I love hearing from you.
Thank you once again for all your love and support ,
Lots of love
Ivelina
(Visited 100 times, 1 visits today)