Torti Pinot Noir has a high percentage of "Resveratol" Antioxidant, Anti-Inflammatory, Anti-Ageing, Cardiovascular Properties Free Radicals Control – Rich In Resveratol.
This phenol is an "aromatic compound" contained in the grape skin and its effect is very important and acts as an "anti-radical, antioxidant, anti-ageing & anti-inflammatory".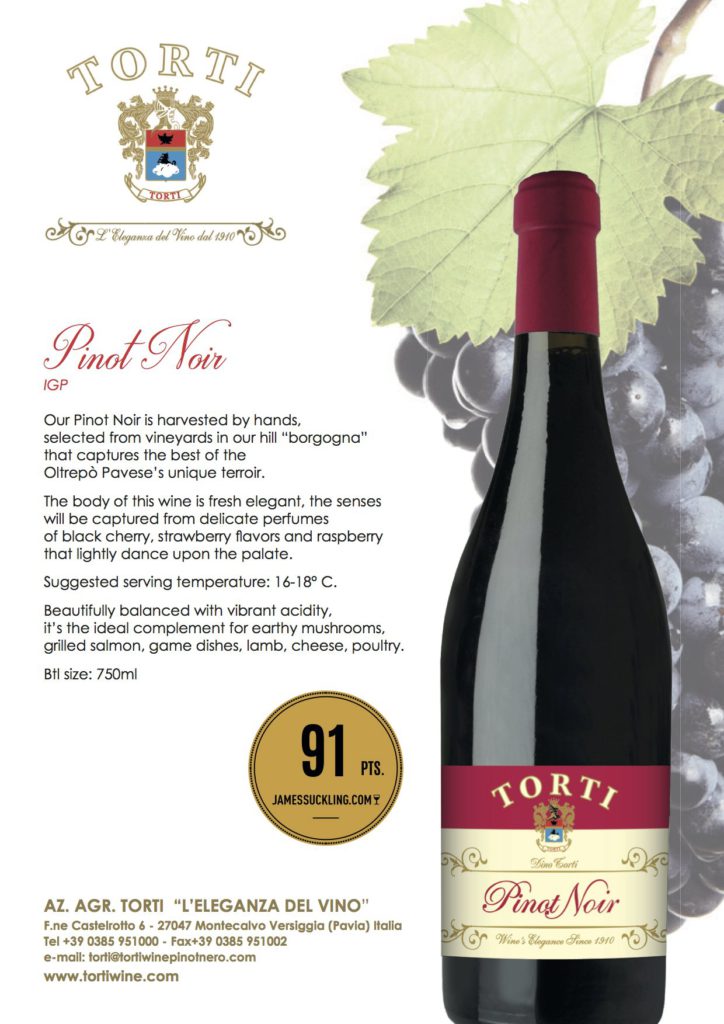 The discovery of Torti Pinot Noir in particular as having this high content of resveratrol was born from a test project on Italian grapes, aimed at identifying those with the highest resveratrol content, thus able to contrast free radicals' ageing process.
Torti Pinot Noir behaves as an antioxidant, showing anti-ageing and anti-inflammatory features. Torti Pinot Noir is not only wine but also a synonym of healthy food. Many doctors recommend a glass of wine a day because it's good for your health. Vitis vinifera grapes' alcoholic fermentation result, skillfully processed and variously aged according to ancient traditions developed by modern Enology, is a unique cornerstone in the Mediterranean diet.

Amongst the precious phenolic antioxidants supplied by grapes, we find resveratrol, responsible for the so-called "French paradox": People who drink red wine have a lower mortality rate from cardiovascular diseases despite their high saturated fats diet. Furthermore, wine is a real beauty elixir. A glass of our Pinot Noir will complete the combination with your food accurately chosen for your lunch, for your dinner, for a relaxing aperitif. The search for quality is the expression of the details that you will find in the genuineness and quality of our wines.
For the full Collection please visit https://greatwinedirect.com/
(Visited 451 times, 1 visits today)