Vegan lip balm sounds impossible, considering virtually all lip balms contain beeswax. I mean beeswax is definitely a core ingredient for many skin moisturizing products and makes the perfect consistency for lip balm right?
Wrong.
Yes, beeswax does work well, however, vegans have largely been left in the dust, until recently. Logger's Lip Balm is a 100% plant-based vegan lip balm made by a company called Walrus Oil. Don't worry, it's just a name, it's not made from walrus.
The key beeswax alternative they use is a combination of olive wax and candelilla wax. The other ingredients are rich oils and butter that feel incredible on your lips, including almond oil, coconut oil, shea butter, and more. It's lightly scented with peppermint and clove leaf, which smells amazing and is definitely a familiar fall or winter scent. If you're looking for a plant-based lip balm that's truly vegan, Logger's Lip Balm by Walrus Oil is a great option.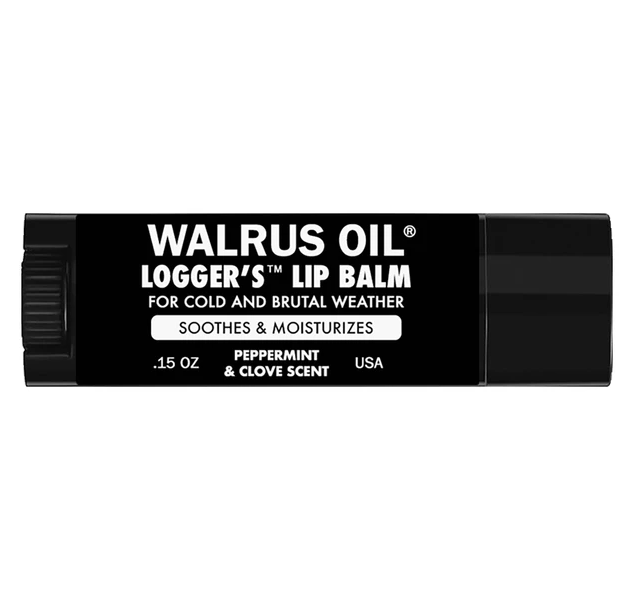 Made for cold and brutal weather and those who work outdoors. Our vegan lip balm soothes, moisturizes, and protects with nutrient-rich Almond Oil, Jojoba Oil, Coconut Oil, Black Currant Seed Oil, Shea Butter, Vitamin E, and Candelilla Wax. Lightly scented with Clove Flower Oil and cooling Menthol Crystals (0.5%). Made with only plant-based ingredients. Oval shaped stick for easy carry. The formula is non-greasy, non-sticky, and non-shiny.
.15oz
100% Plant-Based

Ingredients, Benefits, and Claims
Soothes dried and cracked lips. A light tingling effect from the menthol. Nourishing shea butter and plant-based oils that conditions and moisturizes.
Almond Oil, Coconut Oil, Shea Butter, Jojoba Oil, Black Current Seed Oil, Candelilla Wax, Menthol, Clove Flower Oil, Vitamin E.
Application
Gently rub lip balm on lips until they feel smooth and coated. Apply more as needed.

Product Care
For best results use within 6 months after opening. Keep at room temperature or in a cool and dry place. With the high concentration of Shea Butter, prolonged exposure to high temperatures can cause the lip balm to feel sandy. If this happens carefully scrape off the top layer. Keep lip balm capped when not in use.
Click here to find out more and get your $5 just for joining! 
(Visited 245 times, 1 visits today)