Hello, my friends
its the weekend again .This Vegan Blogging Challenge has inspired me to think in recipes every time I see an ingredient. Today I created another easy vegan recipe , which you can make for breakfast or just as a mid day  snack .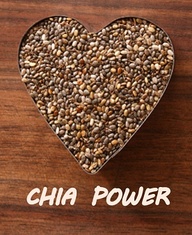 The main ingredient in the recipe are chia seeds, those tiny seeds are really full of goodness and quite versatile as well.Chia seeds have taste is actually more "neutral" than anything else, meaning it goes extremely well with almost any recipe you can imagine: Smoothies, cereals, bake mixes, etc.
Apart from that chia seeds are really amazing
Chia seeds have:
• 3 times the iron of spinach
• 5 times the calcium of milk
• 2 times the potassium of bananas
• 2 times the protein of any other seed or grain
• 3 times the antioxidant potency of blueberries
Apart from all this chia seeds contain the all important Omega 3 Oil . With all that being said I highly recommend you to add some chia seeds to your diet.
Here is the recipe that I created this morning.And this is another brilliant use of the Vitamix . I use the Vitamix nearly every day and it has been one of the best investments we have ever made.
                                           Mango and chia seeds smoothie 
Here is what you need :
1/2 small cup of chia seeds ( soaked overnight so they become gel)
1 ripe mango
4 dates
1/2 cup of almond milk (home made , when possible)
cinnamon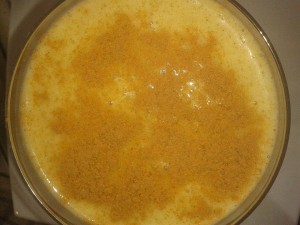 All you have to do is put everything into the blender and let it blend for about a minute. Then pour into a glass, sprinkle with cinnamon and serve. Enjoy!
The flavour is really amazing and I would love you to try the smoothie!
Enjoy the rest of your Saturday and I will talk to you tomorrow!
Thank you once again for all the love and support,
Lots of Love ,
Ivelina
(Visited 96 times, 1 visits today)