Hello, my friends
as I am sipping from  my cup of tea I am also enjoying the last piece of a yummy vegan cake, that I made and it is a perfect time to share the recipe for it.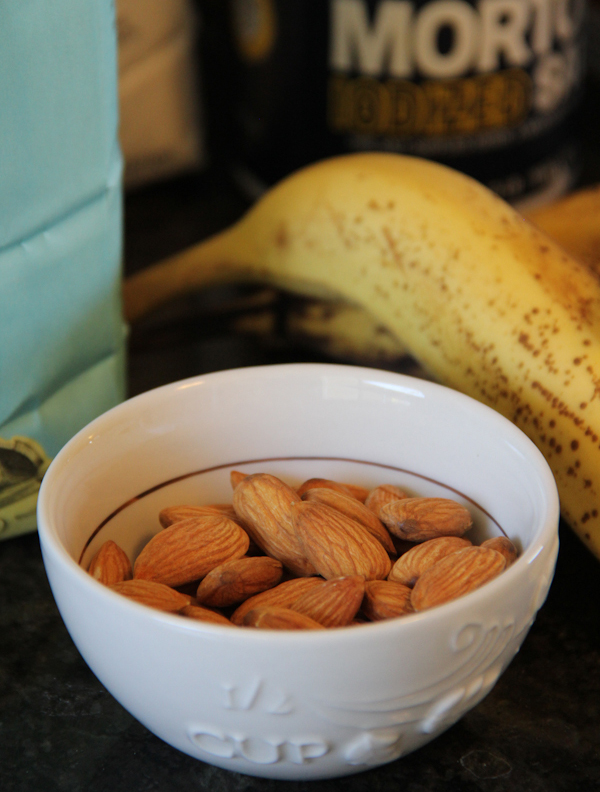 The truth is , that the cake started with an intention to make a simple banana bread , but as I got into it I realized, that I want to make it really special and nice.
Bananas are amazing fruits -full with goodness and taste so sweet. I love having them for lunch and they are pure energy . When I was on a 21 raw vegan cleanse bananas , dates and almonds would be my lunch when I didn't have the time to chop up some salad and ever since then I have at least one every day.
So here is hat you need to make this sweet treat ;
2 ripe bananas
2 cups of spelt flour
1 tea spoon of baking soda
1 cup of hazelnut milk
juice from 1/2 lemon
12 almonds (chopped into small chunks)
1/2 cup of raw unrefined sugar
For the icing
5 spoonfuls of  vegan spread ( I use "Pure")
4 spoonfuls of raw unrefined sugar
amaretto liquor
You will also need 3 mixing  bowls and a food blender if possible.
So here is what you do.First in a medium bowl mash the bananas in a bowl with a fork and add the sugar to them and the chopped almonds as well. In another bowl put the flour and the baking soda and mix well. In another bowl mix the plant milk and the lemon juice by whisking it briskly to create a foam.Then combine the 3 bowl in the largest one and mix well .Please note , that the mix will be quite wet and sticky. Place on a baking tray and bake in the oven in 180C for about 45 minutes . To make sure its ready simply stick a wooden stick in it and once its dry the cake is ready .
While the cake is in the oven you can make the icing. Simply put all the ingredients in the food processor and blend for about a minute or so until you get a fluffy mix.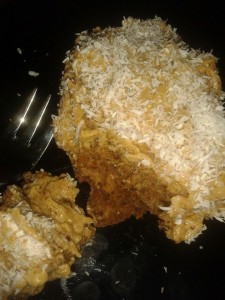 Once the cake is out of the oven and it has cooled down all you do is simply cut in half and make into squares. Then spread some of the icing in the middle and then around each piece and then gently sprinkle with coconut. Enjoy!
This is a very rich and enjoyable treat served with tea or coffee.
Thank you very much for your love and support .
Talk to you tomorrow,
Lots of love,
Ivelina
(Visited 85 times, 1 visits today)