Another beautiful sunny day is over , my friends and its time for a quick recipe . This a Moroccan style aubergine dip and its oozing with flavour and richness. It is also very simple to make and very versatile.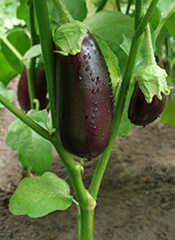 Aubergines are a  fabulous fruit. They have this amazing shiny skin(full with nutrients) and rich nutty flavour when cooked. The dip is made with roasted aubergines and the skins have been removed. You can add the skins to a green salad , which gives it nice smoky flavour.
Here is what you need for the dip :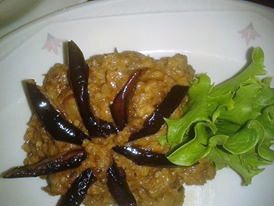 1 aubergine -cut into circles and roasted in little olive oil and water
2 cloves of garlic
1 tea spoon of cumin
a pinch of nutmeg
a pinch of cinnamon
1/2 tea spoon of sweet paprika
juice of 1/2 lemon
salt to taste (if needed) In this recipe i seasoned the aubergine and you probably wont need to add any extra
Is very easy and simple to make it. First cut and season with salt the aubergine and let it sweat for about 20-30 minutes. Dry in a kitchen towel and place in a baking tray with very little water and some olive oil . Cook for about 20 minutes on a medium heat turning occasionally. When its ready let it cook for 5 minutes and then remove the skins. Place the peeled aubergine slices into the food processor and add the rest of the ingredients. Blend for about 1 minute and serve.
Here is an idea , that works really well .
The beauty about the Moroccan flavours is that they are very rich , zesty and tasty.
Hope you like this recipe. Talk to you tomorrow.
Lots of Love ,
Ivelina
(Visited 118 times, 1 visits today)