This evening I went cycling with my boys. Since my youngest boy got his bike it has become our new activity this spring. I used to love cycling when I was a girl and now after a long break of about over 10 years I am on my bike again, only this one has gears and it's white and silver. I had set my mind not so long ago to get more active and having the bikes is a brilliant opportunity to do so. Modern parenting means we do things together on a daily basis 🙂
It is true when they say, that once you've learned how to ride a bike you have learned a skill for life.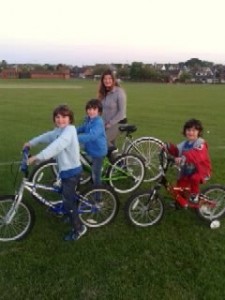 It is really fun and this makes me feel like I am a little girl again. I thought also, that is a good idea to remind myself, that life is like riding a bike. The word "balance" has a special energy. Balance in everything that you do, eat, drink, learn and so on. Embrace the duality of life and focus on what feels right.
Sending Blessings and Love
P.S This is day 26 of  Word press Challenge to make a post every day. There are 213 days left of 2012.
(Visited 214 times, 1 visits today)