Medical Alert Bracelets for Women
Finally, something new…lightweight, inexpensive, and customized
If you are a woman who copes with a serious medical condition, you undoubtedly know that distressing worry: "Suppose I'm in an emergency, and nobody knows my health situation or who to get ahold of?".
This is the reason that medical professionals highly suggest women with major health-related conditions like diabetes, allergies and heart conditions to carry medical alert ID at all times. In short, a medical alert bracelet ensures you can get prompt appropriate care when needed.
It's obvious how important it is to wear a medical alert bracelet–all the time, so why don't people? Here are some of the things women say:
– My bracelet got tangled in my girlfriend's/boyfriend's hair. I felt so embarrassed.
– I forget to put it back on after I do dishes.
– When playing sports, I have to tape it to my skin for the protection of other participants.
– The chain broke and I lost it.
– The metal irritates my skin.
– The bracelet gets dirty, and is hard to clean
– It jingles while jogging.
– I feel self-conscious, as though people are looking at my medical condition first and me second.
– I take it off when I sleep and forget to put it on when I get up.
Now you can go with an economical, lightweight alternative that lets you avoid all these issues–I.C.E. Bands medical alert bracelets.
This inconspicuous band looks just like those familiar "support your local cause" wristbands, while providing the protection of having vital medical data and emergency contact information available when needed.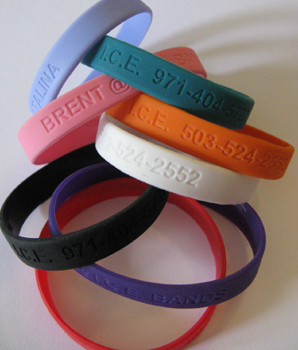 You won't even notice your I.C.E. Band while riding your horse, riding your bike, white-water rafting, hot tubbing, swimming, skateboarding, playing pick-up basketball with some buddies, exploring nature, out hunting, catching waves at the beach, on the golf course, running, or even when napping. (Important Note: Wearing an I.C.E. Band will not guarantee that you are capable of those activities, but it won't hamper you in any way either.)
And listed below are the top reasons women pick I.C.E. Bands to traditional medical alert bracelets:
– Offered in 11 tasteful colors
– 100% silicone is hypoallergenic, waterproof and durable
– Economical: under $10 each, shipped free
– Modern, unobtrusive appearance to minimize undue attention while offering required security and peace of mind
– Can be worn 24/7 during any & all adventures
– No metal parts to itch skin, hook in hair or clothing, set off metal detectors or interfere with medical procedures
– Feather-light and supple for carefree comfort
In conclusion, if you are a woman with a major medical problem, but you don't want to go with the costly medical alert jewelry, or heavy metal bracelets, these personalized silicone wrist bands provide an effective and cost-effective solution. Even if you have your 'nice' medical alert jewelry for special events, your ICE Band could be your comfortable daily medical ID option. The primary thing, that virtually everyone agrees on, is that it's critical to always have your emergency contact and medical details with you. Do not miss this essential practice.
To find out more and/or if you'd like to place an order, go to: http://www.icebandsnorthwest.com/MedicalAlertBraceletWomen.html
Subscribe to our YouTube channel here.
(Visited 83 times, 1 visits today)