Hello, my friends today's post it's all about food. Here is also my video from today! 

As I am coming to the end of the raw vegan detox I feel it would be nice to share with you my most favourite combinations of flavours and textures. I got inspired by a friend because she would like to join me, so I thought why not give you some ideas for your own inspiration. 
This list doesn't include any smoothies or juices, that I love, but they were also part of my daily food intake.
Raw vegan cooking is all about combining and texture. If you are like me and hardly follow recipes word for word then I hope you will find my ideas useful. Here is a small collection of the combinations, that I have made during my raw food detox and those are recipes, that I will continue to make and include in my cooked vegan plan.
In no particular order here is my first raw vegan recipe.
1.Raw courgette spaghetti with sun-dried tomatoes pesto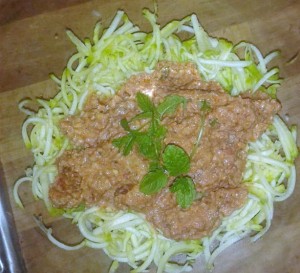 Here is what you need for 1 serving
1 courgette (peeled)
8 pieces of sun-dried tomatoes
a handful of pine nuts
2 small mushrooms (optional)
basil
Himalayan salt
To make the raw spaghetti I use a salad master machine, which makes perfect "pasta".
Your other options to make raw spaghetti are to grate the courgette or use a vegetable spiralizer. There are quite a few to choose from.
To make the pesto you just need a blender. Put everything in it and blend for about 1 minute or so.
Serve with fresh oregano and Enjoy!
2. My second recipe idea is quite a big plate of food, but the combination of flavours and textures works really well.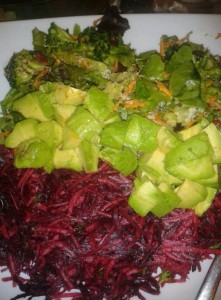 I highly recommend you to try this combination especially in the first few days of doing a detox, while your body is adjusting and your hunger strikes can still be quite strong. What I find is, that after a few days all that hunger is gone due to the abundant quality nutrients, that you have been given to your body.
It's so simple to make. Its a combination of two salads served with avocado.
To make the first salad you need.
1 fresh beetroot,
1 white radish
fresh thyme
apple cider vinegar
Himalayan salt
Again is very simple, Cut the vegetables, using your slicer. Add some apple cider vinegar and Himalayan salt, sprinkle with fresh thyme and its ready.
The other salad includes
1 small broccoli
1/2 lettuce
1/2 cucumber
1 carrot
spring onion
spinach
For the dressing you need
the juice from 1 lemon
tahini
garlic (optional) goes really well
Himalayan salt
Chop everything but the carrot, Grate the carrot and mix. Then make the dressing in another bowl, by combining all the ingredients and mix well. Then serve beside the other salad with nicely cut avocado. Enjoy!
3. My third idea is a green powerhouse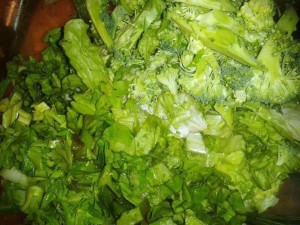 Here is what you need:
1/2 broccoli
1/2 cucumber
kale
spring onion
a mixture of baby lettuce
2 celery stalks
(Just a quick tip about the celery -when you buy celery, store it in a cup of water, so its leaves can grow. There are some amazing nutrients in those leaves. Eat them .)
To make the dressing you will also need
wild oregano
juice from 1 lemon
avocado
few spoonfuls of water to make it creamy
Himalayan salt
Just as any salad chop all the vegetables. Then make the dressing in another bowl. Combine the two and Enjoy! This salad is so amazing. I am gonna definitely continue to make after I finish the detox.
4. My other new discovery is using leaves of all shapes and form as a wrap. Here is an idea to make a seaweed wrap. If you prefer you can use salad or cabbage leaves. Here is what I  found a very tasty idea for a wrap.
Here is what you need to make them.
1 seaweed sheet
lettuce
spring onion
cucumber
carrot
avocado
This dish literally takes 5 minutes to make. Slice everything in nice long strips. Place it on the wrap, roll and enjoy!
5.Last, but not least here is another of my favourite combinations.Another wonderful and delicious salad.
Here is what you need. As always that takes 5 minutes to make.
2 tomatoes
1 sweet red pepper
celery
lettuce
wild oregano
sesame seeds
sunflower seeds
To make the dressing just mix juice from one lemon, some Himalayan salt and garlic and mix well. It's very tasty and extremely satisfying.
So there you have it. This is a small collection, but I hope I will inspire you to add some raw vegan goodness in your life.
Thank you so much for being here and all the support and love.
Sending blessings and Love
Would you like to get paid blogging about your passion? Then click the button below to get started today!
If you liked this post please share it with your friends, using the share buttons below.


(Visited 204 times, 1 visits today)