Pediatric Dentists Play A Vital Role, Let's See Why
We all know that pediatric dentists are highly experienced professionals who can treat children. They can efficiently manage children as well as adults to improve their overall health and well-being. Most people with young children consider a pediatrician for health care needs and hence, dentistry is no different.
Pediatric dentists play a vital role
Pediatric dentists play a critical role in overall oral care. They can treat children from birth to college. If a child has a unique dental issue, a pediatric dentist is required who is qualified enough to provide that treatment. However, children with special needs also require pediatric dentists to solve their problems. They evaluate their overall dental history, as well as provide specialized treatment and procedures.
Pediatric dentists are professionals
Pediatric dentists are experts who have completed a course of dentistry that deals in providing comprehensive benefits to children who need special care as well as attention. They have two to three years of more intensive training after graduation. It often includes hospital training, where they develop the abilities to cure dental problems and emergencies. They also work closely with pediatricians as well as general dentists.
Primary focus
Besides that, all dentists are specially trained and qualified in pediatric dentistry and are predominantly taught by pediatric specialists. Their primary focus is on prevention as well as treatment of dental diseases and disorders of children. They efficiently treat children and systematically address their critical problems.
Proper cleaning technique
They also encourage parents to teach their children different ways to take care of their kid's teeth. They also focus on the appropriate Cleaning technique. They also scrape along and below the gum line to eliminate built-up plaque and tartar. In this way, they prevent gum disease, cavities, bad breath as well as many other critical dental problems. They also polish and floss teeth so that shine and remain strong for long.
Did you know?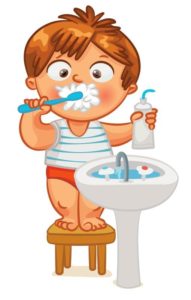 Proper brushing takes at least two minutes.
Hidden dental issues
They also ask parents to have a full dental examination of their kids to stay away from a wide range of hidden dental problems. They perform a comprehensive exam of kid's teeth, gums as well as mouth. They also check for the signs and symptoms of diseases or other problems kids might have. If they perceive any problem, they recommend x-rays to diagnose problems.
X-rays help to identify various hidden problems
X-rays help to identify multiple issues that may go unnoticed. They also recommend consulting a Pediatric dentist to learn more about different types of kid's dental issues. However, most of the time, they focus on essential brushing and flossing methods that can easily protect teeth.
Contact pediatric dentists Atlanta
They ask parents to encourage their kids to floss every day – usually at bedtime, which helps to protect various disorders as well as diseases. Whether you are in Atlanta or anywhere else, you should contact pediatric dentists Atlanta to solve multiple dental issues.
(Visited 191 times, 1 visits today)