We live in some truly amazing times.
These days, thanks to our ever-growing digital landscape, we get to enjoy incredible perks like shopping, paying bills, and communicating with others without even leaving our homes.
With that, a new phenomenon has emerged in the health and fitness sphere – online personal training.
As unlikely as it may seem, you can now get coached online and achieve incredible health and fitness results. More and more people have pulled the trigger and now get to enjoy the many benefits of remote coaching.
But, at the same time, plenty of people haven't even heard of this yet. So, if you're one of them, or you've heard of online fitness training, but don't know what it is exactly and what benefits it offers, this article is for you.
What Exactly Is Online Personal Training, Anyway?
Picture this:
It's the 1990s, and you're interested in getting coached. What can you do?
Well, your options are limited to:
Going around your local gyms, finding one you like, and then hoping there is a competent coach who can guide you to success.
You were limited on three fronts:
Of time;
Of location;
Of the existing pool of coaches in your local area.
Even if you were lucky enough to find a good coach in a proper gym that fit your schedule, the whole process still created a lot of drag and made the whole thing very difficult.
These days, in-person coaching is almost the same – there hasn't been a lot of innovation. But now you have the option of online personal training, and this is where it gets interesting.
With online fitness coaching, you receive your training and nutrition protocols, you guessed it, online. You're not constrained by time or location. You can work with whoever you wish, depending on your goals, schedule, and budget. Put simply, online personal training offers more flexibility, a larger pool of prospective coaches, and many other unique benefits at a smaller cost.
It truly is a new, exciting, and superior way for clients and coaches to communicate and work toward different goals without either party having to worry about limitations.
Granted, we all run our processes a bit differently, but there are certain things you will always receive.
What You Get From An Online Personal Trainer
At first glance, the whole thing may look a bit too complicated. But it isn't. Once you narrow down an online personal trainer, there are three significant aspects you'll be working on – your training, nutrition, and lifestyle as a whole.
Training
Once you've discussed your situation, your online personal trainer will tailor a training program to suit your schedule, goals, preferences, and limitations. Since we are all different, each program accounts for that. There are no cookie-cutter 'solutions.'
Other factors, such as your gym (your access to equipment), are also taken into account when putting together a training plan.
Nutrition/Diet
Forming positive habits is vital here, which is why meal plans don't fare well in the long-run. Online personal training is fantastic in this regard because your coach makes sure that your nutrition supports your fitness efforts. What's more, we help you form positive habits and break negative ones.
In a nutshell, you learn what matters, what doesn't, how you can improve your nutrition for better progress, and what mistakes you should avoid along the way. Plus, your coach is always going to be there to help you if you happen to slip up or if you're unsure of what you should do in a given situation (such as when going out).
Lifestyle
Training and nutrition are two of the three big pillars that hold fitness, and both are vital. But, without the third pillar – your overall lifestyle – you may find yourself plateaued and frustrated.
Because of that, your online personal trainer is going to actively help improve your habits – how you sleep, how you recover between workouts, and how you spend each day.
None of this is to say that your coach will forbid you to live your life; they will only help you form better habits that will accelerate your progress and help you retain your results afterwards.
Aside from all of that, you can always communicate freely with your online personal trainer and ask them questions.
Six Incredible Benefits of Having an Online Personal Trainer
Online personal training offers lots of benefits, and today, we'll go over the six biggest ones:
1. A gym does not constrain you.
The first and most significant benefit that comes to mind is that you don't have to be at a specific location at a given time to receive your training.
You'll work out a suitable schedule with your online personal trainer, and they'll deliver everything in digital format. You can then apply it at your convenience in a gym of your choosing.
You can also apply your training in a home gym if you wish.
2. You don't have to settle for a trainer in your local area.
One of the greatest benefits of online personal training is that you can work with whomever you choose. You can be living in the US and work with someone from Australia. You can be in Europe and work with someone from Latin America.
There are no limits here, and what matters most is who you choose to work with.
This is great not only because you're not constrained by your local pool of coaches (especially if you live in a remote or rural area), but you can also work with top professionals from all over the world.
3. You don't have to worry about scheduling or losing the time you've paid for.
As a client, one of the most frustrating things is paying for the time that you don't get to use entirely. With in-person coaching, this can very much be the case for a variety of reasons. For example, you could be late for your appointment, but guess what? This is the time that you'll likely lose.
Online personal training, on the other hand, is scheduling heaven. Because you don't have to meet up, you don't have to worry about making it on time. More importantly, you don't have to worry about missing out even though you've already paid for the service.
4. Though it may not seem like it, online personal training is cheaper.
Almost all online personal trainers have a fixed monthly cost. Meaning, you pay for thirty days of guidance, accountability, updates, and planning. Sure, they won't be there to hold your hand while you're doing a set of bicep curls, but they'll do everything else for you.
So, rather than pay for private training sessions (which often cost upwards of $60 with the club overhead), which add up a lot, you get all of the associated benefits (and more) with a single monthly payment.
5. You get to consume everything at your own pace.
Working with an online personal trainer means that almost all of your interactions (aside, perhaps, from Skype consultations) are written down (be it email, text messages, or a Facebook chat). Online coaches also deliver your training and nutrition plans in text files.
So, you get to consume everything at your own pace, re-read things, and check back for references. You don't have to worry about remembering everything at once since you've got access to all of the information and guidance at all times.
6. You're given a lot more freedom, but there is still the essential factor of accountability.
As you've probably gathered by now, online personal training offers a lot more flexibility and freedom than in-person coaching does. For the most part, you're free to do things on your terms, which is a great perk.
But, that doesn't mean that you're left alone entirely or that accountability is left for your alone. Your online trainer is always going to be around, and they'll be expecting weekly or bi-weekly updates with your progress (or lack thereof).
This is great because you do have freedom, but you still feel accountable and motivated to push through, even when you don't feel like it.
Why Coaching Requires a Commitment
If you've spent some time looking into online personal training, you've probably come across this 90-day requirement most coaches have (myself included). And at first glance, you might be thinking, "This is just a marketing ploy to make more money from me."
It's okay to feel that way, but that's not the case. Not for most good coaches, at least.
You see, change takes time. While many marketers and 'gurus' out there love to try and sell quick-fix training programs and diets, these don't work. Real change (be it muscle gain, fat loss, or improvements in athleticism) take a long time.
Most people need at least ten to twelve weeks to see noticeable fat loss progress. And this can be even longer when muscle gain is concerned. You can't work with a trainer for four weeks and say, "Welp, that didn't work out. I should find a better coach."
Plus, this is an excellent way for online personal trainers to weed out tire kickers. If you're not willing to commit yourself for three months, then you likely don't want it bad enough and will probably give up after the first month is over.
Personally, I don't only care to deliver x results for you. I also want to give you the tools you need to become independent. I want to help you develop a healthy, practical, and sustainable lifestyle that will keep you in good shape for the rest of your life.
Who Would Benefit From Online Coaching The Most?
Frankly, there's an incredibly large pool of people who can benefit from online personal training. Here are some of the primary categories:
1) You're on a budget.
If you're looking for the cost-effective option, hiring an online personal training is going to be the better option.
2) You're serious about making a lasting change.
If you genuinely want to improve your lifestyle and get in shape, working with an online coach might be the best investment you'll make.
3) You have some experience with training (i.e., not a complete beginner).
If you know how to train and navigate around the gym, you're good to go. And even if you have some things that need a bit of 'smoothing over,' you can always hire an online personal trainer to help you improve.
4) You find accountability very helpful.
Granted, most people do. But if you find yourself extremely motivated to stay on the path because you know you'll have someone to answer to at the end of the week, then online personal training would be a great fit.
5) You travel a lot.
If you tend to train in a different city every week, then working with an online coach is your best bet.
6) You prefer to train at home.
In-home personal training is a thing, but it's quite expensive. So if you have a home gym set-up, going online is your best option. Again.
7) Your schedule is hectic, and workouts tend to happen sporadically.
By definition, in-person coaching happens at an exact place and time. And if you tend to train when you can, doing so with an online personal trainer is, again, your best option.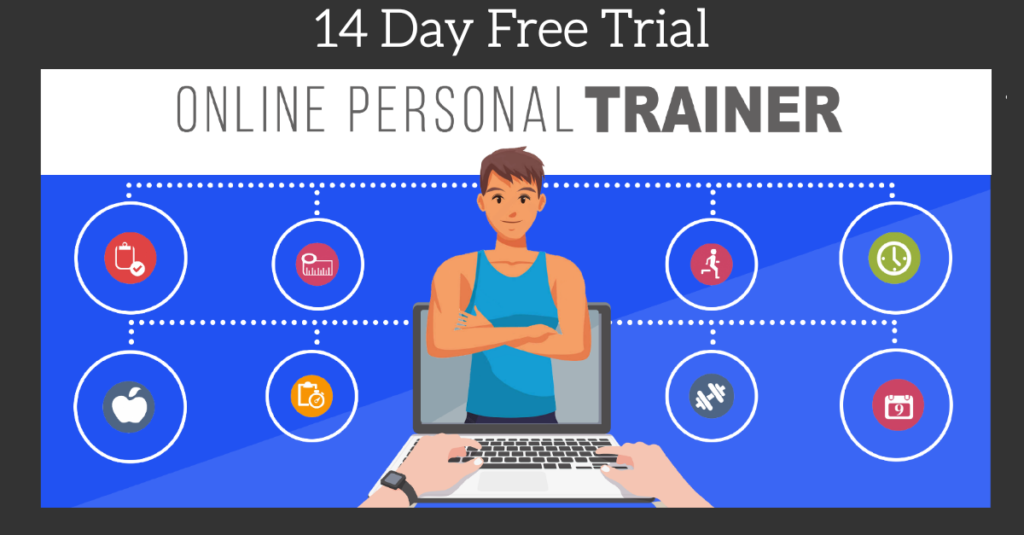 How The Whole Process Works (And Why It's Much Simpler Than You Might Imagine)
Getting started is much easier than most people imagine. First, you contact the potential coach (via an email or application) and wait for their reply.
After a bit of back and forth (again, via messages or voice chat) with them, you get on the same page with regards to:
What results you can expect.
How much it will cost.
How and when communication will happen.
What is expected from both of you?
In many cases, you fill out a questionnaire along with a tracking sheet and send a few photos as a starting point. And, once the payment clears, you receive your goodies so you can start kicking butt.
And that's it. Weekly check-ins don't take a lot of time or effort, and it's much more convenient for yourself and your online personal trainer.
I've personally laid out my price, weekly check-in overview, and contact schedule here.
(Visited 238 times, 1 visits today)