Have you heard of a crunchy, salty, delicious alternative to potato chips which is also a bag full of nutrients? Say hello to plantain chips.
This amazing fruit is very often compared to his very popular relative -the banana. Plantain is a wonderful fruit. It grows all year round and that makes them into a sustainable food source for large communities in Africa and Latin America.
The main difference between the two is that plantain is starchier and it is cooked before consumption. One of the amazing features of the plantain is that can be consumed regardless of what stage of ripeness it is.
When cooked plantain is a tasty alternative for potato chips. They are crunchy, starchy and satisfying.
Plantain falls into the category of potassium-rich foods. Potassium plays an essential part in the regulation of the body's immune system and digestive health.
Plantain's health benefits don't stop there. One cup of cooked plantain contains the following nutrients
232 calories
62.3 gr. Carbs
1.6 gr. protein
0.4 gr. fat
4.6 gr. fibre
1,818 IU of  Vit A
21.8 mg of Vit C
930 mg potassium
0.5 mg Vit B6
64 mg magnesium
1.2 mg iron
As you can see plaintans provide a rich source of complex carbohydrets, vitamins and minerals.
Based on that they are a tasty alternative to potato chips. Eating them will contribute to overall health but more specifically in those few areas.
Consuming an adequate amount of fibre is vital for digestive health. Some medical studies confirm, that most disbalances in the body start due to poor digestion. Keeping your fibre levels high may also help with reducing bad cholesterol levels and keep your colon in good order.
Plantain contains around 32% of your daily recommended dose of Vitamin C. This Vitamin acts as an antioxidant and collects the free radicals in your body which boosts your immune system and overall health.
Did you know, that Potassium is the third most abundant mineral in the body? It plays a vital role in eliminating the effects of sodium by helping in regulating blood pressure. Low levels of potassium in the body can lead negative effect on vital organs and processes in the body.
By simply adding a regular snack containing plantain you are contributing to your wellness in an enjoyable and tasty way.
The presence of Vitamin B6 in plantain provides up to 24% of your daily recommended dose of it. Vitamin B6 is essential for brain function and transporting information on the celular level.
Plantains are very versatile. This amazing plant can be eaten at its three stages of ripening.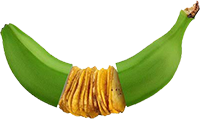 Green plantain is very starchy and not that sweet, which makes it similar to a potato. This is the best time to make plantain chips.
Yellow plantains are sweeter and it's best enjoyed fried, boiled or grilled. This is also the stage when it's an ideal compliment to a curry dish.
Black plantain is still OK to eat. This is the sweetest and the softest stage and it makes a good dessert.
Overall plantains, as the less popular relative of bananas, can be your perfect snack next time you are looking for something crunchy and satisfying. Click here and take your pick.
(Visited 334 times, 1 visits today)