We live in extraordinary times.The celebration of the Resurrection of Jesus(reality or myth) is celebrated with Pagan symbols (reality or myth) based on Ancient Goddess of fertility and love(reality or myth).
No matter what in the next few days of Easter there will be a lot of family gatherings and eating happening, so I have decided to share a few recipes with you to enjoy. 
 Let's start with a very simple brunch or a lunch idea.
1.Stuffed Pita with pita stuffed with spinach, cucumber and tomato with tahini dressing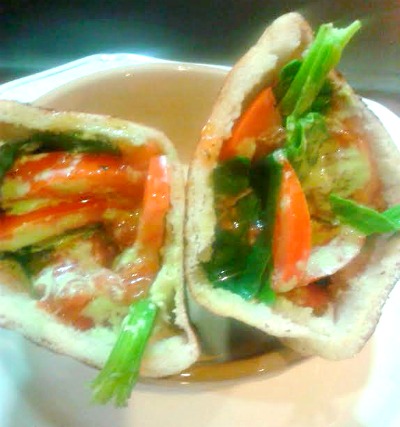 This is as simple as it gets.The only thing you have to do is make the dressing, which is just mixing some tahini, lemon juice , olive oil and a pinch of salt. Then chop your spinach, tomato and cucumber.Toast your pita.Fill it up and enjoy!
2.Pita stuffed with leeks and red peppers
This is another easy and very tasty combination.All you need is 2 red peppers and 1 leek..Chop them nicely and saute in some oil and a bit of water.Add a bit of black pepper and salt and if you like a few finely chopped green olives. Serve with leafy green salad and enjoy!
The next dish is truly awesome. I have made it quite a few times.If you haven't had keftedes
3.Carrot keftedes , inspired by The Greek Vegan. You can see the original recipe here.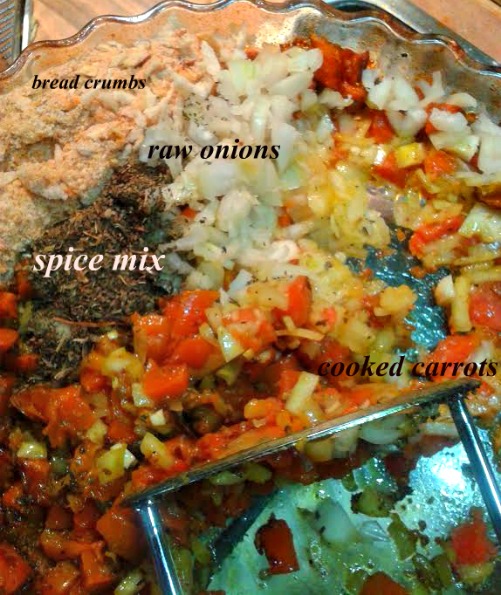 Here is your list with ingredients
4 cups (1 1/2 lbs) roasted carrots
1/4 cup minced garlic
1/4 cup olive oil
2 ts salt/fresh ground black pepper
2 ts turmeric
1 ts ground fennel seed
2 ts cummin
1/4 cup fresh chopped mint
2 ts dried oregano
2 cup toasted breadcrumbs (3-4 slices bread)
2/3 cup minced onions
olive oil for frying  or baking
Here is what you do. This recipe makes 18-20 carrot keftedes .
Peel and slice carrots into small rounds, toss with olive oil, salt, pepper, fennel seed, turmeric, allspice and minced garlic in medium bowl. Turn  out onto baking sheet. Set the bowl aside –  do not rinse!
Roast carrots for 30-35 minutes at 180 degrees until they are tender.  . Return roasted carrots to the bowl you mixed them in. Cool slightly and mash coarsely in a bowl with a potato masher, fork or back of a wooden spoon. Set aside.
In new larger bowl, combine chopped fresh mint, oregano, minced onions and breadcrumbs. Add mashed carrots and combine all ingredients well.
Process or blend in blender or food processor for less than a minute until mixture comes together. Return processed mixture to bowl, cover and refrigerate for at least 1-2 hours  before frying.
Roll carrot mixture into small golf ball sized pieces- I get 2 keftedes out of a 1/3 cup scoop of batter.
In a least 2 inches of hot olive oil, fry keftedes just lightly.  I add maybe 3-4 keftedes to the oil at a time and quickly move them constantly turning and rolling them through the hot oil for a total of little over a minute.  Once they've gotten a crispy outer shell, remove from oil, drain and serve hot. You can quickly cook up the entire recipe in 5-7 minutes.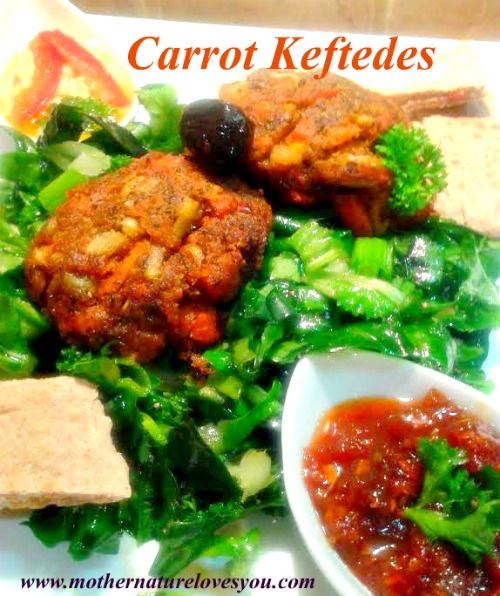 Here is a serving idea.They come out very rich and tasty.i serve them with lime and mango chutney and some hummus on the side. 
And now here is the best part Vegan Easter Carrot cake.
Its moreish, rich and incredibly tasty.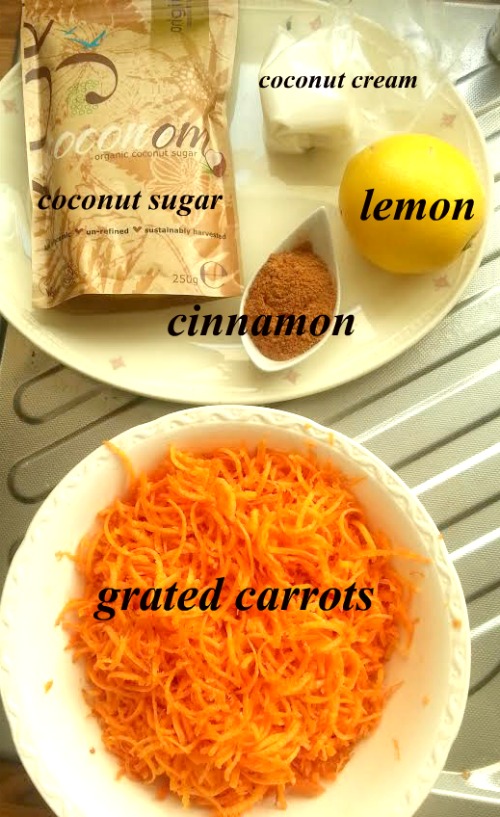 2 large carrots grated
1 cup of coconut sugar
juice from 1 lemon
3 ts of cinnamon
2 cups of flour
3 ts of hazelnut oil 
1 cup of hemp milk
pinch of salt
1 teaspoon of baking soda (5 grams approximately)
For the glaze
200 gr of coconut cream
1/2 cup coconut sugar
vanilla extract
a dash of maple syrup
a dash of Amaretto (optional)
For the toppings
1/2 cup of goji berries
some chopped almonds
a pinch of Spirulina or Chlorella
Here is what you do.
The secret to this recipe is to bring the flavours and soak them into one another. 
Grate the carrots and add the lemon juice, the cinnamon , the sugar and mix well.Let them soak for about 20 minutes .
While they are resting in another bowl mix the 2 cups of flour , the baking soda and the pinch of salt.Mix well and set aside.
Then go back to your carrot mixture and add the oil , the milk and mix well.Then add it to the flour mixture and gently fold it until is all even and smooth.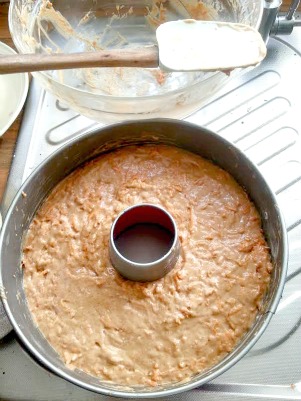 Its a very thick sloppy texture , but not as wet as other cakes.
Your next step is to preheat the oven to about 180° C and place your pan in it. It takes about 30-40 minutes to cook.I know it's done by testing with a wooden cocktail stick or a skewer , making sure it comes out dry.
While your cake is in the oven you can make the glaze, which tastes amazing and it has a texture of fudge.Goes very nicely.
So here it is-simply blend the coconut cream-I used , the one with high fat content, that got from the Asia Supermarket.Its not as hard as coconut butter-its very smooth and rich.I used the Vitamix to mix it with the sugar and all the other ingredients.In the Vitamix I let it blend for about 4 minutes on a low speed , which allowed it to melt and cook a bit.Once its ready-place it in a bowl and leave it in the fridge to cool  as it becomes a lot easy to work with. 
When you cake is ready.Place it on the rack and let it cool, too. 
To make the "green" almonds simply chop some almonds and then place them in a container, that you can put a lid on.I used a hummus one.Then sprinkle with Chlorella or spirulina and shake it, until the almonds are nicely covered with it.
In about 2 hours your cake should be ready for glazing.Simply spread your glaze and then decorate it with the goji berries and the "green" almonds. Enjoy!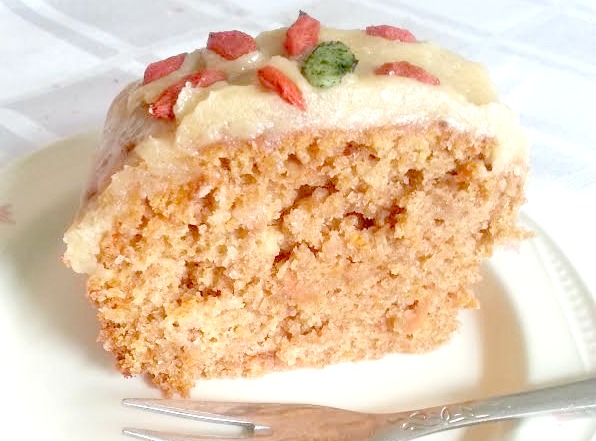 (Visited 515 times, 1 visits today)