Hello, my friends today is day 7 of this amazing vegan blogging challenge. I think in recipes every time I see food . Today is a bit of a special day.
I don't practice any religion, but I did grow up in Bulgaria. It is Easter in Bulgaria today  and the whole coming week is very special and in order to acknowledge this I decided to cook a dish in my Bulgarian dishes.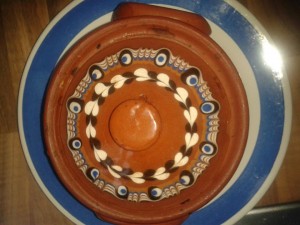 They are these amazing clay dishes, that make the food taste amazing and bring all the flavours in the most unique way. I also baked bread , which was meant to be served with the food, but it was so nice and got eaten by my boys while the dinner was in the oven.
When you are using the Bulgarian clay dishes  you have to cook in low oven heat.But its so worth the wait and the result is amazing.
First of all I will share with you the recipe for the bread. I have come a long way since the first vegan bread I made. The most important ingredient in any kitchen is love and its no different when you are baking bread. The bread is again inspired by the flavours in Bulgaria, which I grew up with and will be with me forever. So here is what you need for the bread
2 cups of wholemeal  flour
1 cup of oat milk
juice of 1/4 lemon a
pinch of salt
2 tea spoons of baking soda
1/4 cup of linseed, pumpkin, sunflower and chia seeds
few spoonfuls of olive oil to spread on the dough before baking
You will also need a large bowl, a medium bowl and a whisk
First put the flour, the baking soda , the seeds and the salt. Mix it well. Then in a the smaller bowl whisk as briskly as you can the oat milk with the lemon juice, so you get a foam . Add the two together and mix well. Dip your hands in the olive oil and gently lift the dough and place it on the baking tray. Bake for 25-30 minutes on 180 C . When you stick a wooden stick inside the bread and it comes out dry your bread is ready.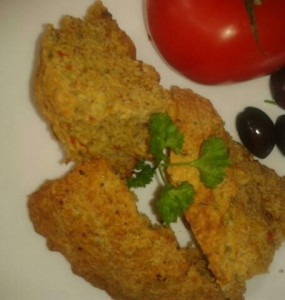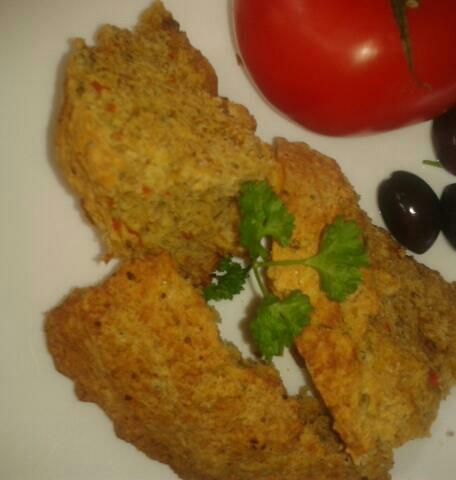 Serve it with some tomatoes and olives. Its very very tasty and so easy to make.
So while the bread was in the oven I managed to prepare the vegetables for the Bulgarian meal. Here is what you need. If you don't have those kind of dishes you can use a casserole dish-it will taste just as good, but it wont be served individually. This recipe serves 6 people.
6 medium potatoes (peeled and chopped in big chunks)
12 stalks of fresh green beans
3 carrots (chopped)
2 onions (chopped in medium chunks)
12 mushrooms (chopped )
2 celery sticks (chopped)
1 leek (chopped)
6 small cloves of garlic (crushed)
6 bay leaves
500 tomato pasata
1 glass of white wine (optional)
mint
basil
paprika
6 black olives
salt and pepper
olive oil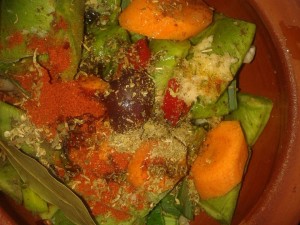 The whole point of this kind of cooking is to put everything evenly in each dish . Then put the lid on and let it cook for about 2 and a half hours in the oven on a low heat of 100 C .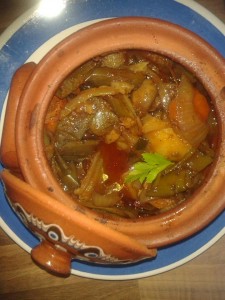 Once its cooked the food remains hot for a very long time and the flavours work so well together.
Serve with bread or rice  and salad . Enjoy!
May all the brightness and beauty of spring and the coming summer bring lots of abundance and prosperity to your life.
Thank you very much for being here and all your love and support.
Lots of love
Ivelina
(Visited 95 times, 1 visits today)