Hello my friends ,
another relaxing Saturday is nearly over. I had a really nice and relaxing day , even manage to take an afternoon nap , which I love every now and again. Gives me a real boost and gets me to catch up on some missed sleep from the week days. So didn't do much cooking today. But here is what I had today. I find that since I am vegan I hardly ever get a craving for any kind of food and really love everything, that I make including all the new combination I make.
If I have to impress people I will put more effort , but overall I seem to stick with lots of fresh vegetables and fruits and some sort of bean /lentil/potato/rice dish.
Today for breakfast we made raspberry cashew "yogurt" drink, which included also some lemon juice and maca root powder all in the Vita mix. I have to tell you, that getting the Vitamix can be one of the best investments you can make. Just the fact that you can make your own plant based milks is priceless. You can ground spices and coffee. Its also amazing when you are making smoothies and everything is so tasty.
The thing about having cashew milk is that is very filling. Just a glass of the raspberry milk keeps you full till lunchtime and sometimes even longer if you have been taking it easy like me. So there was no surprise  I had a late lunch.I made Moroccan style kidney beans .Here is what you need.
1 cup of cooked kidney beans ( I cooked mine from scratch, and had made them yesterday, but you can use a tin of kidney beans)

1 small white onion (chopped)

1 cm of fresh ginger 

5 mushrooms (chopped)

salt and pepper

 

1/2 teaspoon of  ground nutmeg

1/2  teaspoons ground cumin

1 teaspoonof ground coriander

 1/4 teaspoons cayenne pepper

 1/4 teaspoons cinnamon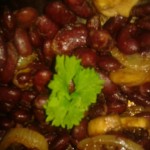 Its very easy to make it. Just saute the onions and the ginger , then add all the spices and the mushrooms and the beans. Add a 1/2 cup of water and let it simmer for not more than 5 minutes. Serve and enjoy ! I had mine today with toasted whole meal pita and celery.
It was delisious and I love the Morroccon flavours.
For supper I made this very easy salad I highly recommend you to try it. I had it on its own , but you can have it as a compliment to many dishes as well. The combinatuon of flavours and textures works really well.
Here is what you need :
2 small cooked beetroots

1 apple (I used royal gala)

2 sticks of celery

wild rocket

some fresh parsley

salt

for the dressing mix balsamic vinegar with olive oil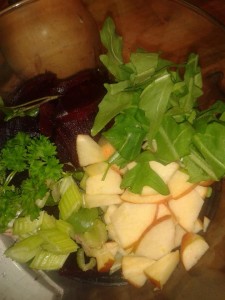 Chop everything and season. The sweet earthiness of the beetroot and the crunchy celery works perfectly well with the spice from the wild rocket and the mild tangy flavour  of the balsamic vinegar-a real treat for your taste buds.
So there you have it, my friends another day of this vegan blogging challenge.
Thank you so much for all the love and support.
Talk to you, tomorrow
lots of Love
Ivelina
(Visited 58 times, 1 visits today)