Hello, hello my friends
it has been a good few days since I sat in front of my laptop and blog some easy vegan recipes. It wasn't planned, but as most things in life it kinda felt right to take a brake. As well as that the boys were staying with their granny, which made it extra easy to have a mini holiday this weekend. Yesterday we had some friends over for the day and I really wanted to impress them with some yummy vegan food.
One of the nicest things about serving vegan food is the energy , that eating fruits , vegetables , seeds and nuts bring to the table. I believe , that when you eat with people , that you love you heal yourself in the most amazing way.
Just as important as eating vegan the other vital part of cooking , preparing and eating food is the energy , that you put on the food. Its vitally important to put good energy and have the intention to be present with it. Its a small ritual , that we do every day so make it healing , loving and nutritious.
So here is how you make each of those yummy goodies.
Will start by mentioning , that I did not make the stuffed vine leaves. Got them from a shop. They taste great, even though not as good as the ones, that my granny used to make.
To make red roasted pepper humus I simply roasted some red pepper in the oven and when it was ready remove the skin and add in the food processor with some grated white onion , olive oil , oregano and plain humus. The red pepper gives it amazing richness and taste.
Next lets make the potato salad .Here is what you need
12 potatoes
1 small white onion
oregano
juice from 1 lemon
olive oil
salt and pepper to taste
Its simple and very delicious. All you do is you gently boil the potatoes in lightly salted water. Then you cut them into big chunks with the skins . Chop the onions and add them . Then season with the lemon juice, olive oil and oregano. Season to taste and enjoy.
Now lets make the flash fried garlic courgettes. Here is what you need
2 small courgettes , cut into thin slices
2 cloves of garlic
some whole meal flour
salt and pepper to taste
Peel the garlic , crush it and leave it on a side. Add the salt and pepper to the flour and gently coat the chopped courgettes in it. Fry for a few seconds each side and place on a  plate. Once you are done mix the garlic with the oil , that you fried the courgettes in and sprinkle over the courgetts. Serve and enjoy!
Here is a another picture of the food .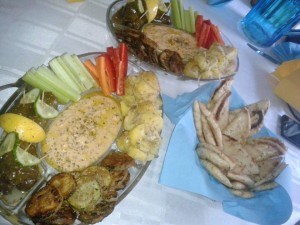 Hope you liked those ideas and feel free to share the post with your friends.
Thank you very much for your love and support,
Lots of love
Ivelina
(Visited 423 times, 1 visits today)