Hello, everyone. Here is one of the most popular recipes in the world, made by  Chef Victor Miranda.
RATATOUILLE
Servings: 4
Prep Time: 20 min.
Cook Time: 45 min.
1 cup crushed tomatoes
2 Tablespoon extra virgin olive oil
1/4 teaspoon apple cider vinegar
1 teaspoon minced garlic
1 tablespoon fresh basil (chopped)
1 teaspoon oregano powder
1 tablespoon parsley (chopped)
1 1/4 teaspoon salt
1/4 teaspoon black pepper
1/4 teaspoon red pepper flakes
1/4 cup red bell peppers (diced)
1/4 cup green peppers (diced)
1/4 cup onion (diced)
2 cups zucchini (sliced)
3 cups eggplant, (sliced)
3 cups fresh tomatoes, (sliced)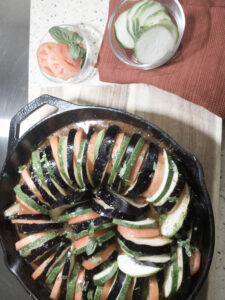 Preheat the oven to 350F. Lightly grease your cast iron skillet and set it aside.
Slice your vegetables not too thin. Toss the eggplant with 1 teaspoon of salt and allow it to drain in a colander for 10 minutes. Pat dry with a paper towel and set aside.
In a medium pan heat, 1 tablespoon of olive oil at medium heat sear the eggplant slices for 10 seconds on each side and set aside.
On the same pan saute the rest of the oil, garlic, bell peppers, and onion until soft.
Add to the pan the crushed tomatoes, vinegar. basil, parsley oregano, salt, pepper, and pepper flakes. Simmer it for 10 minutes on low heat. This is your tomato sauce, take a second to enjoy the aroma.
Pour the tomato sauce into the prepared skillet and smooth it into an even layer on the bottom of the skillet.
Place the veggie slices in alternating patterns (zucchini, eggplant, tomato, repeat) placing them leaning against the edge of the pan. Repeat until you've filled the skillet from the outside to the inside or used up all of the veggie slices. Whatever happens first. Creating a beautiful spiral. Make sure you take pictures.
Bake for 35 minutes, until the tomato sauce at the bottom, is bubbling and the veggies are tender.
Serve with a spoonful of tomato sauce on the bottom topped with veggies. Garnish with fresh basil and a drizzle of olive oil.
For more recipes and Inspiration feel free to follow
 Chef Victor Miranda
https://www.facebook.com/avegancook/
https://www.pinterest.com/avegancook11727/
https://www.instagram.com/a_vegan_cook/
(Visited 300 times, 1 visits today)