Like most mothers I really hate it when my boys are sick.I mean I feel so helpless and I wished I was having the bug or whatever just to make it better for them. It is only normal, I know.
This weekend my youngest boy-Sotiraki got the chicken pox. What do I do? A few years ago I would have been straight on the phone to my mum, asking her what to do. Just to point out my mum is a Consultant-Microbiologist and used to be a pediatrician. From her I have been learning the human body and how it works long before I could spell my name. The other thing I used to do is ring the health center , naively thinking that they will give me the answers I was looking.Those days are gone.I worship Mother Nature and everything that comes naturally.
I did none of those things. I just said to my son:"You've got chicken pox". He looked at me knowing exactly what I was taking about and said:"Chris from my class had them last morning" , which means some time in the recent weeks in his language. Then he said "I want silver water". Silver water is colloidal silver, which I have and give to my boys as a "miracle cure ". Then I made a mix of baking soda and water and put some on his skin . He took everything very calmly and to my surprise no winging.May be because I wasn't tense or moaning.
When I am relaxed everybody is relaxed. My boys are clear indicator of my mood.I do not mean the mood I am showing , I mean they somehow feel my state.Sometimes its hard to face yourself and hear them saying things, that sounds exactly what I would say.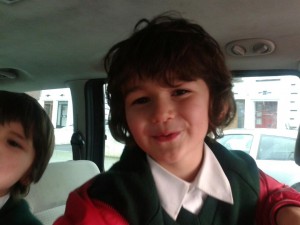 So today is day 3 of the chicken pox and he is on the mend. The only thing is he and the other 2 have to stay off school for 2 weeks and then we have the Easter Holidays ;-0. So no school for a month. To be honest I have always wanted to see what life would be like without the school routine. I believe, that until a certain age I am their greatest teacher, so now is my time to shine.
I have set up a challenge for them this week and made a spread sheet for every boy for everyday of the week. Their challenge is to learn something new every day and do one house work task with me as well. They are absolutely brilliant. Ari hepled me with all the vegetables for the dinner, Stellios cut all the leaves in the garden and collected them in a bucket and the youngest one Sotiraki cleaned the fridge.I am one lucky happy mother and its not Mother's day!!!
I am looking forward to tommorow and all the following days to see how our team will do. This is my conclusion.Chicken pox are a blessing for us. It will bring us closer and give me a chance to be the greatest teacher to my boys and their best friend also if I can.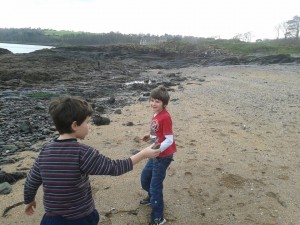 (Visited 125 times, 1 visits today)