Today was Sunday and this weekend is nearly over as everybody is in bed and sleeping. This is the thing about Sunday you have to make the most of it as the new week starts tomorrow and we have to do what we have to do . Never mind that. Today I made the best cinnamon cookies ever. I was so in the mood for baking them and that's why they turn out amazing-nice and crunchy on the outside and really soft and gooey in the middle. I used a few different ingredients and I will be using this recipe over and over again as instead cinnamon you can put ginger, all spice, chocolate chips, some dried fruits or what ever else you imagination come up. Now as I am thinking about them I think a bit orange zest and chocolate would be amazing. I would leave that for now and just will give you the easy vegan recipe for the vegan cinnamon cookies.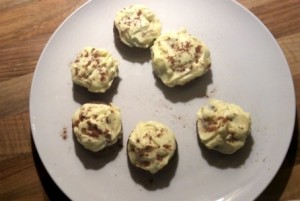 So here is what you need
1 and 1/2 cup of flour . This time I used 1 cup of extra soft flour and a 1/2 cup of extra strong wholemeal flour(it really does the trick as the texture of the cookies is simply perfect)
1 cup of raw cane sugar( my added bonus is also 2 spoon fulls of maple syrup
1 teaspoon of backing soda
1/4 of a tea spoon of salt
3 spoons of cinnamon powder
1/2 cup of  fat ( I used 1/4 coconut butter and 1/4 walnut oil)-this combination works really well as it gives the cookies deep nutty taste
2 table spoons of flax seeds mixed with 2 spoons with water.
Now in a large bowl mix the flour, sugar backing soda , the cinnamon . Then add the flax seeds and last the fat. Mix it all together.Preheat the oven. Then with your hand form small balls and place them onto a backing tray , that has been covered with backing paper. Bake for 10 minutes in 200 C in the oven. If you have a fan oven like myself they are ready in about 7-8 minutes.
After they are cool down enjoy every bite.
Sending blessings and love
In the meantime thank you very much again for being here.
Stay Healthy and Feel Good 
Ivelina
If you liked this post please  share it with your friends , using the share buttons bellow.
(Visited 217 times, 1 visits today)