Vegan party food is so tasty.
One of my most favourite things in the world is dinner parties. i absolutely love having friends and family visiting and staying for dinner. I believe that in that special connectedness of when people are together and are enjoying themselves there is a hidden magic. Last night we had friends over and they wanted to experience some vegan party food. So I am so happy to share what we had last night. Everybody enjoyed it and we had a great time.
Keeping things simple and tasty is one of my most important rules. Those foods also go well with any other food that people would like to have.
So all that food got eaten and as always we had a good time. It is amazing when your food is not revolving around meat, how much more you can do . The other good thing about vegan party food is that you can eat as much as you want and know that you are being really good to your body. Also eating so much vegetables really fills you up and you feel so satisfied. For me it has been the so far the best thing I have ever done in my life, that really makes the difference. I have given to charities, I have went to uni slim classes, I have been to the gym, I have given money to beggars and clothes to charity shops, I have read books, and have been working many jobs and so on, I have blogged now for quite some time, but nothing compares to the feeling of being vegan. Its pure compassion and love. I am so lucky and blessed and I do hope that when you explore some of the vegan party foods even if you are not a vegan yet, but you can help your body feeling better by simply reducing the animal products going into.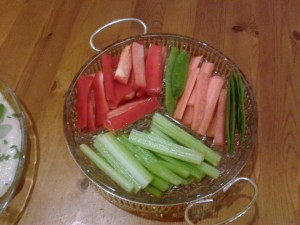 So here is what was on the table -hummus with some chopped vegetables -so yummy and colorful All you do here is you chop in strips some carrots, celery and red pepper . I buy organic made hummus. The only thing I would normally do is to add some olive oil and lemon juice , just to give it a bit of extra richness and zest.
Another brilliant addition to a vegan party food is of course a salad.And plenty of it ! Last night I had 2 of them on the table.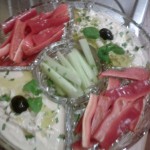 The first one is beetroot and grated carrot with one small onion with some balsamic dressing. i make the dressing myself is so simple-just mix one part balsamic vinegar and 2 parts olive oil , then add some salt and pepper and sprinkle some oregano. This time I added some avocado as well.Avocado has one of the healthiest fats on this planet and its incredibly tasty with its nutty rich flavour.
The other salad that i made was also very yummy-lettuce and tomato, but the magic in this salad was the dressing. I was introduced to tome amazing lime and tomato chutney a few weeks ago when I went to visit friends in Fermanagh.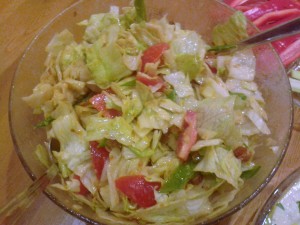 So you just season the salad with tahini and that chutney, then add some olive oil and lemon juice and a very little bit of salt. For an extra crunch I added some chopped almonds and it was so so nice.I also made some spring greens with onions stir fry. I made them a bit spicy with some Moroccan spice, turmeric and ground coriander.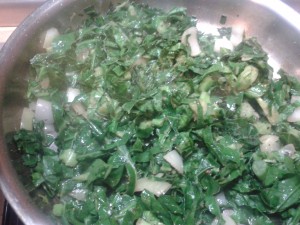 You really need just 5 minutes to make those spring greens as they cook really fast and you want as much of nutrients kept as possible. Unless you gonna juice them I you'd be better cooking them fast as when they are raw they are not as enjoyable.Or at least this is my humble opinion. 😉
Then I made some rice noodles and a bit of home made chips. The main thing is that a vegan party food is a real fun after all. I am looking forward to have many more of them and share them with my favourite people.
In the meantime thank you very much again for being here.
Stay Healthy and Feel Good 
Ivelina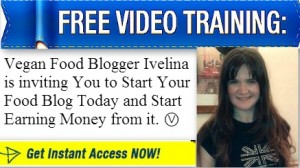 P.S. We use this  blog to inspire you. You can create extra income by blogging daily.
We teach others how to do this. It's simple. Click below for info.
CLICK HERE FOR MORE ANSWERS TO YOUR QUESTIONS
CLICK HERE TO JOIN US
If you liked this post please  share it with your friends , using the share buttons bellow.
(Visited 156 times, 1 visits today)