This is the time of the year when everything is very colorful and rich.The harvest season really calls for a vegan pumpkin pie and as sure as anything I made one today. There is nothing like a pumpkin-it's one of the most satisfying fruits , that Mother Nature gives us.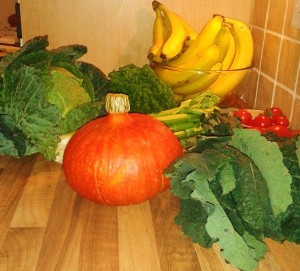 Pumpkins are full of goodness. They contain many anti-oxidant vitamins such as vitamin-A, vitamin-C and vitamin-E.Pumpkins have one of the highest levels of vitamin-A,which is a  powerful natural anti-oxidant and is required by the body for maintaining the integrity of skin and mucus membranes. It is also an essential vitamin for good visual sight.
Pumpkins are also  a good source of B-complex group of vitamins like folates, niacin, vitamin B-6 (pyridoxine), thiamin and pantothenic acid.It is also a rich source of minerals like copper, calcium, potassium and phosphorus.
Pumpkins are very versatile and used in many recipes. Today's recipe for the pumpkin pie is inspired by a Bulgarian pumpkin pie , called tikvenik -its a very traditional harvest and winter pie , made by my mother and granny .The flavors and the texture are very rich and comforting and it's an ideal treat for the whole family.
Here is what you need :
1 cup of grated pumpkin
1/2 cup of chopped pecans (you can use walnuts , as the original is with walnuts )
1/2 sugar (I use raw unrefined)
250 gr.of filo pastry (I use ready rolled )
1 tablespoon of cinnamon
1 teaspoon of ginger
1/2 teaspoon of nutmeg
1/2 teaspoon of cloves
Some walnut oil
A splash of oat milk (too moist the pastry , but if you don't have any, water will do just fine.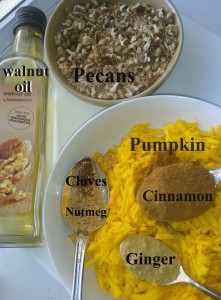 Here is what you do .
First grate the pumpkin .You can use a food processor, but it's too mushy and it loses its nice texture.
Your next step is simply to mix all the spices with the pumpkin, sugar and pecans.Its should look like that.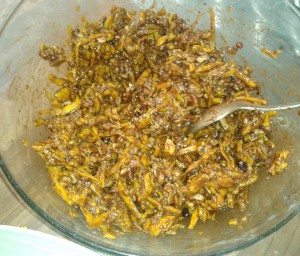 Then your next step is simply to put layers of filo pastyr and the mix with an ocational walnut oil and some splashes of oat milk or water to keep the pie nice and moist .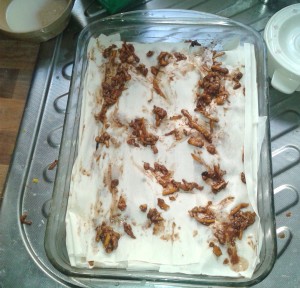 So once you have used up all your mix and pastry simply sprinkle some walnut oil and a add a splash of oat milk or water. Preheat the oven to 170 degrees in a fan oven and 200 ordinary. Place your pumpkin pie in the middle and let it cook for about 15 minutes or so. Here's how it looks once it's done.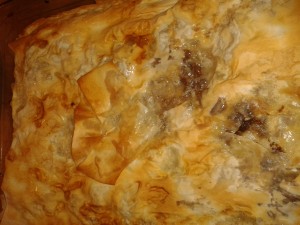 It's a tasty and delicious treat and it's perfect with some nice tea of your choice. The smell of the pie is really comforting -cinnamon always gives that reassurance of homely and cozy room. Enjoy!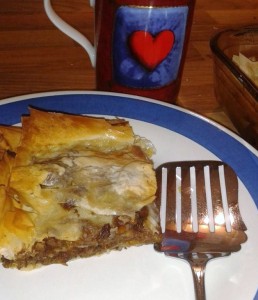 There you have it my friends-an easy vegan pumpkin pie for the whole family to enjoy!
I hope you like the recipe.Please let me know if you have any questions on making it in the comments box below.I would love to hear from you.
Sending you lots of love
Ivelina
(Visited 232 times, 1 visits today)