Hello, my friends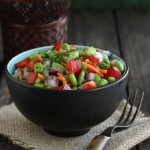 I have had some amazing response for the Easy Vegan Recipes-30 day Vegan Blogging Challenge. I am more than delighted to have nearly 30 people on the event and everybody is bringing wonderful recipes and cooking tips.
For today's recipe I would like to share with you one of the tastiest veggie kebabs , I have ever made. The flavours are inspired from the Mediterranean cuisine, which I love love love.
Those kebabs will impress meat eaters as well as they have a very rich flavour and the mushrooms are truly amazing in this combination.
Here is what you need to make the kebabs -Those ingredients make approx.8 good size kebabs
2 medium courgettes 

15 chestnut mushrooms 

2 onions 

2 medium white onions 

2 red peppers

4 cloves of garlic

juice of 1/2 a lemon 

oregano 

olive oil 
First step in making the kebabs is cutting all the vegetables into cubes. In another bowl mix the lemon juice with the olive oil, the crushed garlic  and the oregano and pour it all over the veggies. Let them stay there for 5 minutes.next make the kebabs. I use wooden or bamboo sticks and here is how they look just before I put them in the oven .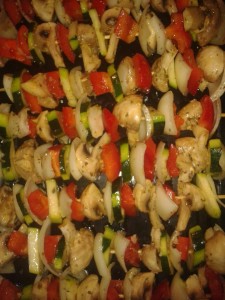 If you prefer you can fry them , but cooking them in the oven on a medium heat , turning occasionally does a great job for me.
Here is an idea how to serve it. I toasted a pita bread in the juice where I made the kebas. It is a very good way to use up the juice and very tasty as well.
This is how I served it.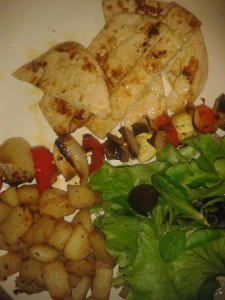 Serve with some fried potatoes and green leafy salad. This is one of those dishes that you will be making over and over again as its very tasty and satisfying.
Thank you once again for all your love and support.
Lots of love ,
Ivelina
(Visited 77 times, 1 visits today)