All Mediterranean recipes are a true celebration of life, especially the ones, that are vegan.I love all those fruits and vegetables oozing with sunshine and amazing flavours. 
So for this Meatless Monday Vegan Style I am gonna share with you a wonderful combination-
Stuffed Aubergines and Styffed tomatoes server with leek and red pepper rice and sesame garlic sauce.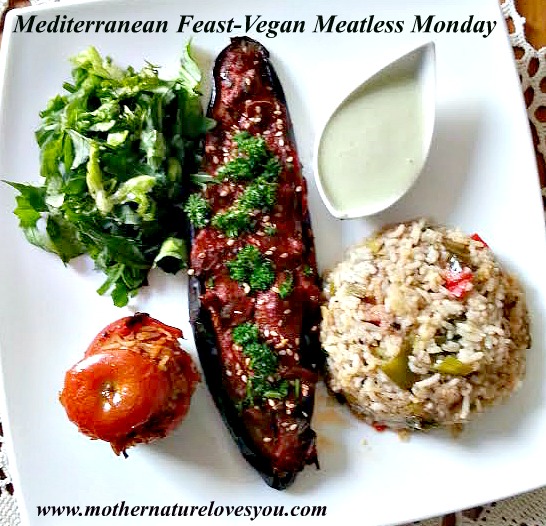 So here is what you need to make the stuffed aubergine
2 medium sized aubergines(cut in half and scored into diamonds)
7 chestnut mushrooms
1 small onion
3 cloves of garlic
1 cup of tomato passata
1 stick of celery
bay leaves
basil
mint
a pinch of salt
black pepper
a dash of red wine (optional)
The first step of this dish is to roast the aubergines.Simply cover them in some olive oil and a bit of water and roast them in the oven turning both ways occasionally.Place the tray in the oven and cook it until its nicely golden and very soft.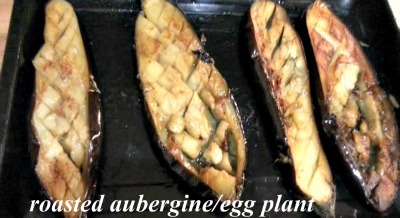 While your aubergine is in the oven you can make the sauce.
Simply saute the onion with the garlic with a bit of olive oil and water and then add all the herbs and spices.At this stage add the finely chopped mushrooms.Then add the tomato sauce , I use tomato passata, but chopped tomato will work as well.Let it cook for a bit on a low heat and then pour some wine if required. Turn off the and let rest.
Then all you have to do is simply pour the sauce on the top of the roasted aubergines and let it roast for about 20 minutes on a medium heat.
Serve with some fresh parsley and sprinkle with sesame seeds.
Leek and sweet red pepper rice is another incredibly easy but very delicious dish,
You need 1/2 leek
2 sweet red pepper
3 cups of water
1 cup of basmati rice
salt
pepper
basil 
some hot paprika  (optional)
All you do is this-saute the onions and peppers with all the seasoning and herbs until soft and golden.Then you add the rice a bit of salt.Add 3 cups of water and let it simmer on a low heat until the rice has absorbed all the water . 
I ended up making the stuffed tomatoes as I had some tomato sauce left after I stuffed the aubergines.Simply remove all the inside part of the tomatoes.Then season them with a pinch of salt and pepper and .Mix some sauce with rice and then put it inside the tomatoes.Put the lid and roast for about 20 minutes on a medium heat.
And last but not least here is how you make the most amazing sesame garlic sauce .You would need a powerful blender, I use Vitamix.
Here is the recipe for the Sesame Garlic sauce
100 gr. raw sesame seeds
7 raw cashew nuts
100 mg of water
some lemon juice
a small bunch of parsley
3 cloves of garlic 
salt to taste.
Put everything in a Vitamix and blend on full power for about 90 seconds until is smooth.Put in a glass container with a lid and let it cool in the fridge for about an hour before serving.
Serve everything with love and a good size of a green salad. 
If you like this recipe please share it with your friends , using the buttons above and below. 
Love you lots, 
Ivelina
(Visited 212 times, 1 visits today)