Hello, my beautiful friends
I know I haven't been in touch with you in the last few days. There was so much going on and my blog  got left behind. Today I felt I got my Mojo back and I am hoping to continue sharing my vegan recipes to complete the challenge  and everything, that goes with it.
I am one of these people that truly goes with the flow which might not always be productive , but its always enjoyable and full of lessons and blessings. The most important part of life for each and every one of us is to remain true to ourselves and I 'd rather be slow and miss a few days blogging , than do it without inspiration or clear willingness to explore.
With that in mind I want to invite you to explore some tasty vegan Mediterranean food.This combination works really well and its full with flavour and goodness.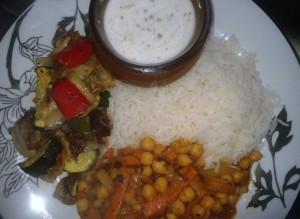 This is vegan tzatziki made with cashew yogurt , chickpeas and roasted vegetables served with rice. I would like to start with the tzatziki , which used to be an irreplaceable dip before I went vegan. Growing up in Bulgaria had its effect on me when it came to yogurt as its thought to be one of the essential foods . Since I am vegan today is the first time I made a cashew yogurt and I will be making it over and over again as its simply perfect.
Here is what you need:
To make the cashew yogurt -makes approx. 500g
1 cup of raw cashew (soaked overnight )
2 cups of water
3 capsules of Vegan Probiotics -I use Solgar Advanced Acidophilus Plus (Non-Dairy) Vegetable Capsules
juice from 1 lemon
Put all of the ingredients in the Vitamix and blend for about a minute and place on a side.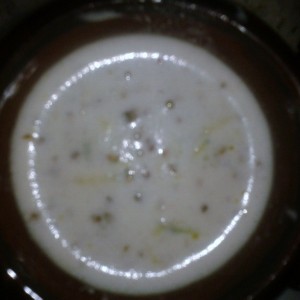 Next grate a cucumber and season with salt and pepper . Pour the yogurt into a large bowl and add the well seasoned cucumber to it.Crush 4-5 cloves of garlic and add to the mix.  Then add oregano and olive oil. Mix and place in the fridge.
This dip works really well with rice , but its also nice with toasted pita.Making the roasted vegetables is a real pleasure as they make my kitchen smell simply divine. Here is what you need.
2 red peppers
1 green pepper
1-2 white onions
1-2 courgettes
10-12 mushrooms
juice from 1 lemon
olive oil
basil or oregano or both
salt and pepper to taste
white wine (optional)
All you do is cut all the vegetables and place them into a roasting tray. Add the seasoning and sprinkle generously with olive oil . Cook on medium heat for about 30 minutes ,mixing if needed. Them pour some wine or water and let it cook for another 10-15 minutes.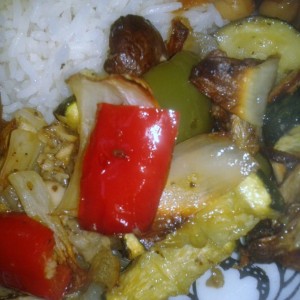 There is no comparison to the freshly roasted vegetables. They add so much to most dishes and are also wonderful hot and cold.
I was so in the mood for making something nice today and I also perfected my recipe for chick peas Mediterranean style. Here is what you need :
2 cups of cooked chickpeas (preferably cooked from scratch)
3 small carrots (chopped )
2 stalks of celery (chopped)
2 small white onions (chopped)
3 cloves of garlic
7 spoonfuls of tomato pasata
paprika
basil
mint
salt and pepper to taste
some olive oil
The recipe is very simple. Start by gently heating up some oil . Then add the seasoned onions and  garlic and let it simmer for few minutes. Once its starts sticking to the pan pour some water and let it cook till the water disappears. Make sure that  the onion is soft and nearly cooked. Then add the carrots and the celery and all the spices.Mix well and cover with water just about covering all the ingredients .Let it simmer until some of the water vaporates and then add the tomato pasata.
This Mediterranean feast goes really well with tomato and red pepper salad or any other salad of your choice.
I love all the ingredients and the flavours work brilliantly together.
I hope this recipes will inspire you to try some Mediterranean food and enjoy it. If you have any questions please leave me a comment below, I would love to hear from you.
Thank you very much for your love and support,
Lots of Love ,
Ivelina
(Visited 95 times, 1 visits today)