Before I decided to become  vegan I was never excited about a vegetable or a fruit. This world of easy vegan recipes is heaven.Today I am writing about fennel.  Fennel to me was an herb, that goes well with fish. I have also had fennel seeds in my tea, which is also quite nice.
Now in the amazing world of easy vegan recipes I have rediscovered this aromatic plant and have made it a nice addition to my salad. I love variety and I am excited to learn and try new things all the time. This morning I was doing the food shopping. Now when I am at the vegetables and fruit isle I like to try something new. There is so much to see when you are looking with an eye of a vegan person. We are so blessed to have the choice and abundance and I am so grateful for that.
So here am I with this fennel on my kitchen work top wondering what to do with it.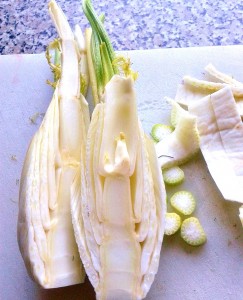 So I thought the easiest thing would be to chop it up and cook it lightly in some salt and pepper. I have to say it is a very pleasant smell. Just put it on a medium heat and let it "speak" to you :–)
It's ready in about 10 minutes when it turns gold.Here it is my cooked fennel, ready to be eaten. I love using my imagination when cooking. Just so happen that this morning I made some flax seed bread and the sun dried tomatoes have been in the marinade for just over 2 days so it would be a perfect compliment to the fennel.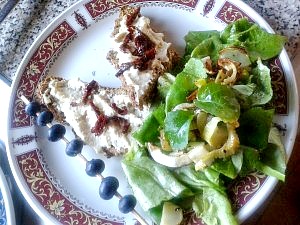 So there you have it. Flax seed bread with humus, topped with sun dried tomatoes, served with lettuce and cooked fennel. For an extra color and sweetness you can add a blueberry  and some apricots or peaches..Enjoy ! It is a very easy vegan recipe and can be a perfect lunch.
Sending you Blessings and Love
P.S This is day 79 of the Word press Challenge to make a post every day. There are 149 days left of 2012.
(Visited 47 times, 1 visits today)