Spinach is one of the most nutrient  foods on the planet. Spinach its on the top of the list of many super foods list. It is also in season now so its at its best. The time when I really experienced the power of this amazing leafy vegetable was whenever I was expecting my second child. I was told, that the iron levels in my blood are very low, so I would need to take some iron. So by instinct at the time I knew that spinach contains lots of iron and I started to take spinach 2-3 times a week.By the time it was time to check my blood again I have increased the iron levels in my blood by 5 times.
I have always loved spinach- growing up in Bulgaria, where during this time of the year there was an abundance of it in my granny's garden. Now transferring to a vegan lifestyle I love it even more-raw, lightly cooked or juiced. I love it all.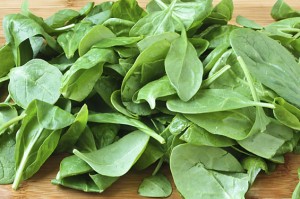 Today I made one of my favourite treats-spinach with rice with olive oil and lemon juice. I will give you the recipe but first I would like to share with you some of the health benefits of spinach and why it is a good idea to add more of it in your diet.
1. One cup of spinach contains  vitamin K and vitamin A, almost all the manganese and folate your body needs and nearly 40 percent of your magnesium requirement.
2.It is a  very good  source of more than 20 different measurable nutrients, including dietary fiber, calcium and protein.
3.The vitamin C, vitamin E, beta-carotene, manganese, zinc and selenium present in spinach all serve as powerful antioxidants that combat the onset of osteoporosis, atherosclerosis and high blood pressure
4.Spinach contains its own type of plant based steroids called phytoecdysteroids. Phytoecdysteroids are similar to insect molting hormones and have been shown to dramatically increase glucose metabolism. This keeps blood sugar levels stable and minimizes the need for the critical fat-storage hormone insulin.
5.Spinach also contains kaempferol, a strong antioxidant that prevents the formation of cancerous cells. Women who have a high intake of this show a reduced risk of ovarian cancer, likely because of kaempferol's ability to reduce cancer cells proliferation.
6.Spinach is a source of glycoclycerolipids that protect the digestive tract from inflammatory damage. These glycoclycerolipids are the main fatty acids that makeup the cell membranes of light-sensitive organs in chlorophyll containing plants.
7.Spinach is an important source of copper, zinc, and selenium which boost immunity.
I am sure you do not any more convincing how vital is to consume spinach. Here is a simple and tasty recipe.
You need
1 cup of washed rice
2 cups of organic spinach
2 onions
3 cups of water
salt, pepper
oregano
olive oil
lemon juice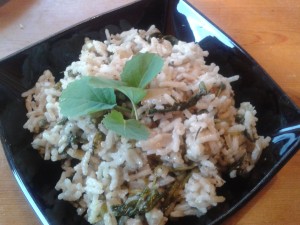 Cook the chopped onion in olive oil, salt , black pepper and oregano till the onion turns golden. Then add the rice and mix well. Add the spinach and mix. Then add the 3 cups of water and let is simmer for 10 -12 minutes till all the water is absorbed by the rice. Serve with a drizzle of olive oil and a squeeze of lemon juice. Enjoy hot or cold.
Sending blessings and love
 
P.S This is day 41 of  Word press Challenge to make a post every day. There are 198 days left of 2012.
(Visited 269 times, 1 visits today)