Hello , my friends
in the last few months I have been feeling amazing from avoiding wheat. One of the main reasons for that was the fact, that every time I had bread I felt bloated and also had a runny nose. As this happened over and over again I realized , that its time to start avoiding wheat and mainly bread.I feel so much better now I have been avoiding it for nearly a month. Also this change has allowed me to experience some new wonderful grains. So far I made spelt bread, rye bread and last week got a big bag with chickpea flour from one of my favourate places to shop-Asia Supermarket , so it will be good.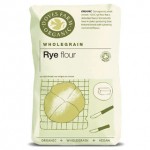 In today's blog I want to share my recipe for rye bread. Its very simple and easy to make. Rye is and amazing grain and here are some reasons why its a better choice , than wheat.
Rye is very nutrient dense grain .It contains  high levels of iron, calcium, potassium and zinc as well as vitamin E and a variety of B vitamins. It is also a good source of protein and soluble fiber. Soluble fiber helps one to feel satisfied longer as it slows down the breakdown of carbohydrates and sugars. Rye contains 'fructans' (a type of fructose) as its main sugar source.
Rye is also magnesium rich which helps control high blood pressure. Another advantage of rye is that it ferments in the gut, producing arabinoxylan, a short chain fatty acid. This in turn supports the immune system by triggering lymphocyte production while balancing blood sugar levels and lowering cholesterol.
For centuries, rye has been used to cleanse the stomach and intestines of impurities and parasites.After all that being said I strongly recommend you to start including wholegrain rye bread in your diet.
My recipe is very simple and easy to make.Here is what you need :
2 cups of rye flour
1 cup of plant based milk (I used almond )
2 tea spoons of baking soda
a pinch of salt
juice from 1/2 lemon or 2 spoonfuls of apple cider vinegar
some olive oil
Here is what you do.
Mix together the flour, soda and the salt.
Whisk the milk with the lemon juice(vinegar) so you get some froth.
Add milk and mix to a soft sticky ball of dough.
Sprinkle the oil over the dough and turn it over to form a smooth ball of dough.
Place the dough on a large oiled baking tray .
Place a large Pyrex dish or casserole dish over the dough.
This is another serving idea and overall the rye bread has a unique nutty taste and a lovely texture.I highly recommend you trying it and I hope you would like.
Thank you very much for your love and support .
Would love to hear from you , please leave me a comment in the box below.
(Visited 123 times, 1 visits today)