Today is day 3 of my raw vegan detox and its going really well. I know its only early days , but I am having a really good time with it.Here is a quick video , that I just made with a few thoughts of today!
So I was still able to enjoy everything on my plate. Here is an idea to make a nice and very satisfying dinner.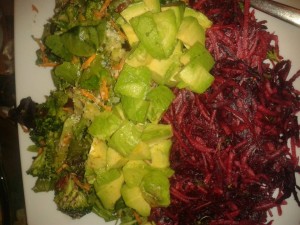 Here is how easy it is to make.
The food has 3 main components, that work really well together.
The first part is
1 small beetroot
1 small radish
some fresh thyme
1 spoonful of apple cider vinegar (optional)
I cup mine using the "Salad Master", but you can just grate them in an ordinary grater.Then add the fresh thyme and enjoy.
The next part of the dinner is the broccoli salad
1/2 broccoli (nicely chopped)
10 cherry tomatoes
baby spinach
some lettuce
1 small carrot (grated)
Put all the above in a bowl and mix well. The dressing here is optional and you can make your own, but here is the one I made.
To make the dressing you need
raw sesame tahini
3 cloves of garlic
juice of 1 lemon
2 spring onions (finely chopped)
some dried basil
Mix well and pour over the salad.
The last part is avocado. Simply cut and enjoy. I find this combination incredibly satisfying and so tasty, considering there is no oil or salt. It was very tasty.
Its bed time for me now, talk to you tomorrow.
Stay healthy and have a great day!
Sending Blessings and Love
Would you like to get paid blogging about your passion ? Then click the button below to get started today!
Join NOW! 
If you liked this post please  share it with your friends , using the share buttons bellow.


(Visited 127 times, 2 visits today)